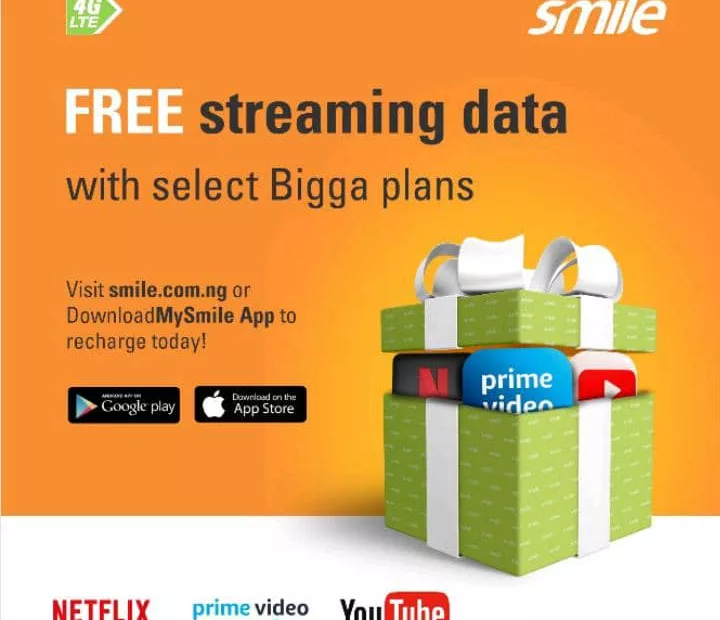 Smile Communications Offers Free Streaming Data To Customers
Nigeria's foremost and leading mobile broadband provider; Smile Communications has introduced a new offer to Smile customers that offers FREE Streaming data for consumers to stream their favourite content on YouTube, Netflix and Amazon Prime Video absolutely FREE.
The company in a recent statement said "We are giving our customers so much more when they purchase any of our select Bigga plans with FREE streaming data, so they can have fun engaging with their favourite entertainment and social media services for longer." says Mr. Abdul Hafeez, Chief Marketing Officer, Smile Nigeria.
All Smile customers who recharge a Bigga plan, from 1.5GB to 20GB, priced from N1,000 to N5,000, will get an additional 3GB to 5GB FREE streaming data to use between 11pm and 6am on YouTube, Netflix and Prime Video.
With this introduction, consumers get access to FREE Youtube, FREE Netflix and FREE Amazon prime video when they subscribe to any of the select Bigga plans from Smile.
"We are still a consumer-centric organisation that understands the huge financial responsibilities associated peculiarly with the first quarter globally, and want to cushion these effects with extra value for our consumers, while encouraging other Nigerians to get on the Smile network to enjoy this and many other goodies from Smile," Hafeez concluded.
Smile communications who led in voice call acquisitions in the past year, is poised to enter new markets, as well as deliver several firsts within the telecommunications operating space as the year progresses. Industry watchers conclude Smile is a brand to look out for in 2023.