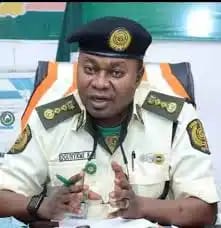 Yuletide: TRACE Deploys 680 Operatives On Ogun Major Traffic Corridors
In a bid to ensure safety, the Ogun State Traffic Compliance and Enforcement Agency, TRACE, has commenced operation "SAFE & RESPONSIBLE DRIVING….A MUST" throughout the Ogun 12 major traffic corridors, including the Lagos-Ibadan Expressway, Atan-Lusada-Agbara-Badagry Expressway, Interchange-Sagamu-Ijebu-OdeBenin/Ore Expressway, Abeokuta-Kobape-Siun-Interchange Expressway, Lafenwa/Rounder-Olorunda-Ayetoro-Imeko-Ilara Border amongst others for constant motorised patrol, 24hrs on daily basis.
The exercise is to guarantee effective traffic management, timely clearance of obstructions, prompt rescue/emergency service and collaboration with other security agencies on the 12 major traffic corridors in the state before, during and after the Christmas and New Year Celebrations.
According to a release from the office of the TRACE Commander/CE, Cdr. 'Seni Ogunyemi, the operation which commenced on Monday, 12th December, 2022, through Monday, 9th January, 2023, will involve the deployment of 680 operational strength of her human resource to man strategic beats and choke points, especially diversion and construction zones across the state 12 major traffic corridors, to check the excesses of recalcitrant motorists, more so that, the agency envisage a high volume of vehicular and human traffic during the Christmas and New Year Holidays, with its attendant traffic build-up, breakdown of ill- maintained vehicles, obstruction, over speeding, reckless and drunk driving, as well as road crashes.
The release also urge the motoring public to avoid buying fuel and transporting same in contaminated jerry cans, in view of the fuel distribution challenge that is prevalent in the country because of the risk and danger associated with same. Rather they should use safe fire resistant lined containers, which is safe and tamperproof.
The release further urge all TRACE operatives to be humane, civil and exhibit a high level of professionalism, just as it charged the general public, particularly the motoring public, to ensure a crash free celebration.
While wishing the Christiandom a Merry Christmas and a fruitful and rewarding New Year, the TRACE boss enjoined motorists to ensure strict compliance to traffic rules and regulations, as any vehicle apprehended during the celebrations for traffic infraction(s) will not be released until Monday, 9th January, 2023, when the agency would have ended her Yuletide Special Operation Order.
However, for feedback calls in case of emergency situations, the following numbers can be reached: 112 ( Toll Free Line); 0803 491 9165; 0805 057 8004 and 0806 270 3568..