'You Are Not Our Student',Barewa College Disown Kogi SDP Guber Candidate, Muritala Yakubu's Testimonial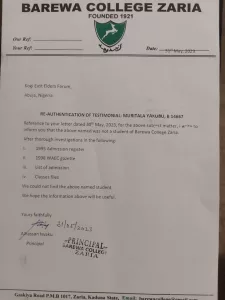 Claims by the Governorship Candidate of the Social Democratic Party (SDP) in the forthcoming November 11, 2023 election in Kogi State, Muritala Yakubu, that he attended the Barewa College, Zaria has been debunked  by the school.
The Principal of the school, Alhassan Isyaku, in his response to a request by a member of the Kogi East Elders Forum, Prof. Hassan Isah, for authentication of a testimonial from the school, which had been presented by Yakubu, said the governorship candidate was not a student of the school.
In his response, titled, "Re-Authentication of Testimonial: Muritala Yakubu B 14667", which was leaked to the media on Friday, the school principal said, "Reference to your letter dated 30th May, 2023 for the above subject matter, I write to inform you that the above named was not a student of Barewa College  Zaria.
"After thorough investigations in the following:
(i) 1995 Admissions register
(ii) 1998 WAEC gazette
(iii) List of admission
(iv) Classes files
"We could not find the above named student. We hope the information above will be useful."
If the claims by Barewa College are found to be true, Yakubu risks prosecution for forgery, a criminal act.
In his request for authentication of the governorship candidate's student status, dated 30th May, 2023, and personally signed by him, Prof. Isah had said, "I hereby write to attach a testimonial issued to Muritala Yakubu by this highly prestigious institution.
"We would be most grateful for your assistance in confirming this information."
The letter was addressed to the Principal of Barewa College.