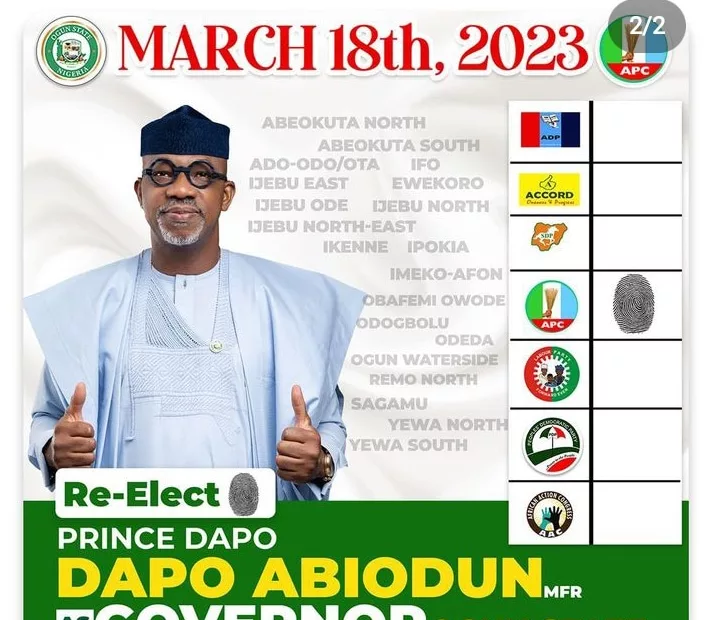 Why Ijebu Remo Should Re-elect Prince Dapo Abiodun As Ogun State Governor Today – By Gbolahan Adetayo
As the 2023 gubernatorial election fast approaches, a series of attacks and untrue claims allegedly sponsored by opposition parties in Ogun State have been trailing the incumbent governor of Ogun State, Prince Dr. Dapo Abiodun (MFR), just to make sure that the good people of the state, especially the indigenes of Remo land, turn their back on the easy-going governor who has the interest of his citizens in mind.
Undoubtedly, Dapo has been in office for four years, and his achievements in the metropolitan area have been remarkable, even though the enemies of progress in the land are fighting a lost battle for his downfall.
As the people of Ijebu Remo prepare to head to the polls on Saturday, 18th March 2023, here are some reasons why they should ignore Abiodun's critics and focus their attention on re-electing him for a second term.
On road infrastructure, Governor Abiodun has been able to construct roads in different parts of Ogun State, including Ijebu Remo. He constructed the Agosasa-Ilara-Ijoun-Oja Odan road, which has improved connectivity and eased transportation for people in the area. He also constructed the Ijebu Ode-Epe road, which has reduced travel time and encouraged economic growth in the region.
Also, remember that renovation of public schools in Remo land and Ogun State, in general, was one of the first projects to be executed in his 2019 agenda.
Abiodun's priority has been to improve the quality of education in Ogun State. He renovated several public schools in Ijebu Remo, including Local Government Primary School, Ipara Remo, United Primary School, Ipara Remo, Oke Agbo High School, Omu High School, and Imodi Grammar School. These renovations have improved the learning environment for students and teachers, making it easier for them to teach and learn.
Research revealed that another big project he executed in the area in his first 100 days in office was the renovation of health centers and general hospitals in the state. This is to ensure the people of Ijebu Remo have access to good health facilities.
According to his critics, Dapo is yet to do anything in Remo Land, but don't forget in haste that the first airport in Ogun State, Gateway International Agro-Cargo Airport, is part of the projects executed in the last four years by his government, which can never be forgotten in the history of Ogun State.
The Gateway International Agro-Cargo Airport at Iperu Remo, Ogun State, is one of Governor Abiodun's flagship projects. The airport has the capacity to handle cargo flights and promote agricultural exports from Ogun State. This project will have a positive effect on Remo land, as it will create job opportunities for the people and increase economic growth in the region.
Governor Abiodun has demonstrated his commitment to improving the lives of the people of Ogun State, and Ijebu Remo has not been left out of his development agenda. His road construction projects, renovation of public schools, and the Gateway International Agro-Cargo Airport are just some of the achievements he has recorded in the region. Re-electing him on Saturday will ensure continuity in his development plans and provide an opportunity for him to do even more for Ijebu Remo and Ogun State.