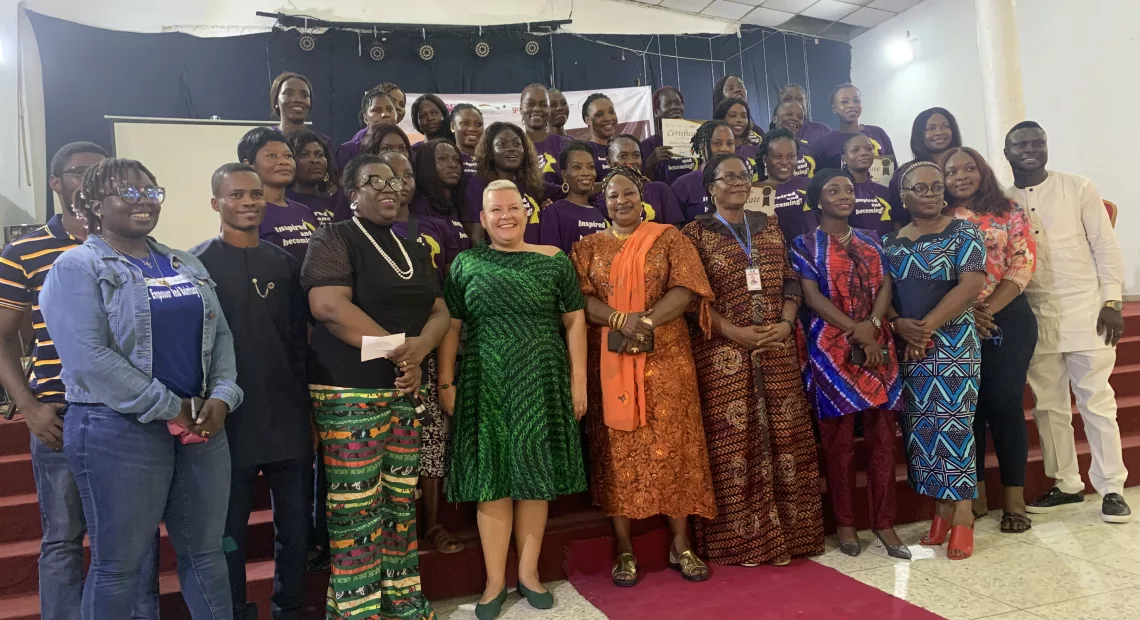 WARDC Partners GIZ To Empower , Reintegrate 100 Women
The Women Advocates Research and Documentation Centre (WARDC), in partnership with GIZ, has undertaken a project called "Inspire, Empower, and Reintegrate Women," which successfully empowered one hundred women.
The primary objective of the project was to reintegrate potential female migrants and returnees into society. This was achieved by providing vocational training, skill acquisition, business mentorship, and coaching to develop their skills. The project specifically targeted vulnerable women, such as sex workers, women with disabilities, and those facing various forms of violence, aged between 18 and 40 in Lagos State.
On June 30, 2023, a graduation ceremony was held at Oranmiyan Hall, Lagos Airport Hotel, Ikeja, where the 100 beneficiaries celebrated their completion of an 8-week training program in catering and hotel management, fashion designing, and hairdressing.
According to a report by the World Health Organization (WHO), 30 percent of girls and women aged 15 to 49 in Nigeria have experienced sexual abuse. Violence against women and girls in Nigeria has remained alarmingly high, with a significant increase during the government-imposed COVID-19 lockdown. Gender-based violence saw a staggering 149% monthly increase immediately after the lockdown was implemented. Returnees face mental health challenges, encounter social stigma, and struggle against prejudice from the general population, including their own families and communities. Women also face the additional challenge of irregular migration, which exposes them to physical abuse, torture, rape, enslavement, and other forms of psychological abuse inflicted by criminal gangs, smugglers, traffickers, border guards, police, and fellow migrants.
The project had several objectives, including empowering the beneficiaries through vocational skills training in catering, tailoring, and hairdressing. It also aimed to provide medical, psychosocial, and legal support to 30 beneficiaries, empower all 100 beneficiaries through ongoing mentoring, coaching, and motivational series, and support them with vocational equipment for self-employment.
WARDC successfully provided psychosocial and legal support to the beneficiaries, conducted joint follow-ups with mentors to track their progress in their chosen fields, and delivered vocational skills and business training to equip them with the necessary skills for starting their own businesses.
The catering program enrolled 32 beneficiaries who received training in baking, pastry making, and hotel management. One beneficiary expressed her gratitude, stating that the project had given her purpose and allowed her to connect with others. The fashion design class had 38 beneficiaries divided into foundation and advanced classes. A beneficiary from this class shared that the project had provided her with a positive focus and helped her overcome negative thoughts. Thirty beneficiaries were enrolled in the hairdressing class, where they received training in wig-making and makeup artistry. One beneficiary mentioned that the project had taught her independence and allowed her to pursue her passion.
Dr. Abiola Akiyode-Afolabi, the Founding Executive Director of WARDC, commended the perseverance and commitment of the 100 beneficiaries during their training. She emphasized that the project aimed to inspire, empower, and reintegrate women in a world filled with obstacles, assuring that they are ready to face whatever the future holds.
Sandra Vermuijten, the PME Team Leader at GIZ, the German Development Agency, expressed her joy at the project's success and its inspiring impact on empowering women. She stated that GIZ has been working in Nigeria since 1974 in collaboration with the Nigerian Government, and supporting women is a significant part of their projects. She congratulated the beneficiaries and wished them the best in their future endeavors.
Mrs. Rachel Uzor, Head of the Research and Program Development Unit, representing Mrs. Comfort Modupe Agboko, the Zonal Commander of NAPTIP Lagos, also extended congratulations to the the NAPTIP Lagos Zonal Commander to the beneficiaries and their loved ones present. The National Agency for Prohibition of Trafficking in Persons is also a partner in this project. She highlighted NAPTIP has combatted trafficking in persons for 20 years in Nigeria in July. They have used their '5 P'Strategies to fight the menace of trafficking which are Protection, Prevention, Prosecution, Policy and Partnership. "People are trafficked outside the country and internally within the country. These victims are moved from one state in Nigeria to another and are exploited sexually, through forced labour or organ harvesting. A mother of one of the beneficiaries informed me that her daughter was referred to Project Inspire by NAPTIP. We thank WARDC for a cooperative partnership and GIZ for their support."
Other partners that were present include;
Mr Abbey Oluwafemi, Program Coordinator, Women's Consortium of Nigeria, he encouraged beneficiaries not to sell the equipment given to them today and not try illicit means of migration again. "It is important they build on the skills and business mentorship to empower themselves."
Other dignitaries that were present were Olugbode Ayomokun, Senior Employment and Reintegration Advisor, GIZ.
Itori Eze-Anaba the Founder of Mirabel Centre, Kasali Motunrayo Mudirakat, Assistant Dir. Gender, Lagos State Ministry of Women Affairs and Poverty Alleviation, Alausa- Ikeja, Lagos. They all urged the beneficiaries to use the various equipment they were given and not store them at home and do nothing.
 Certificates were presented by Sandra Vermuijten, GIZ, Dr Abiola Akiyode-Afolabi and Emmanuella Azu, WARDC's Director of Program.