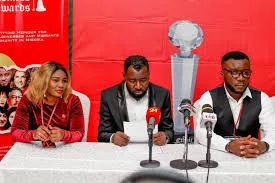 The Ethnic Business Awards Holds Second Edition On October 1
The organisers of the Ethnic Business Awards-TEBA has began preparations for the sophomore edition of the laudable event aimed at honoring foreigners and migrants community in Nigeria.
According to Tunde Moshood, Convener of the awards ceremony, this year's show holds at the prestigious Oriental hotel, Lekki Lagos on Nigeria's Independence Day, Sunday October 1st, 2023.
In a World Press Conference,  the organisers disclosed that the amazing figures of foreigners and their economic contributions to the nation informed the need for the award celebration.
The organization further noted that the Ethnic Business Awards which debuted in 2020 is designed as an annual event but the fears and jitters left behind by hurricane Coronavirus Desease (Covid19) hampered the project's immediate continuity. Just like the maiden event, the sophomore edition holds at same place, the prestigious Oriental hotel, Lekki Lagos on Sunday, October 1st, 2023.
The Ethnic Business Awards is a Corporate Social Responsibilty, our own way of giving back to our guests, our idea of celebrating foreigners, those foreign businesses, diplomatic missions and migrants community for their unflinching support and contributions to the Nigerian economy.
He added that the aim of the award is to also bring together migrants community with a view to celebrating their sense of unity and economic contributions  as well as to strengthen the mutual relationships between migrants community and host country.
The convener, Moshood  also noted that the concept of the project includes researching  and appreciating promising and established foreign companies, migrants community and ethnic individuals of sterling qualities, they will be identified and grouped into different categories via a public opinion poll, research and consultations for the purpose of the awards ceremony/presentation·
"We have created categories like The Ethnic Man Of The Year; an award that goes to an outstanding migrant/naturalized male who aside being an employer of labour or business leader has also built a rapport and contributed to other communities most especially the host society. There's also The Ethnic Woman of The Year; who'll be considered worthy of the memento in the same vein.
Other categories are Auto Company of The Year, Ethnic Financial Institution of The Year, Household Appliances Company of The Year, Electronics Company of The Year, Ethnic Group of The Year among others. There are also categories like Special Recognitions in various fields and so on," he said.