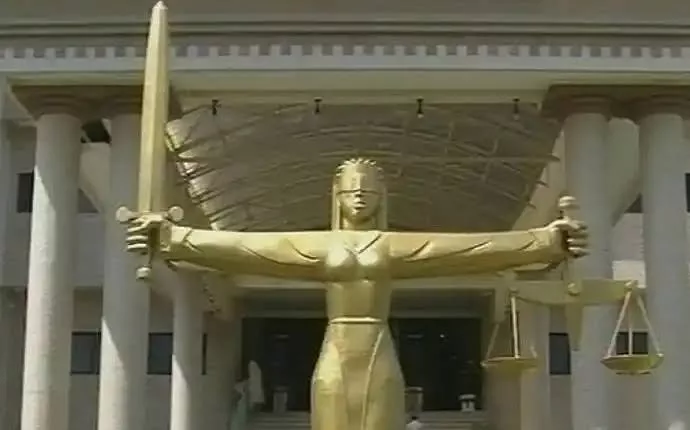 Stop Dropping Juju In My Court Again, Lagos Judge Warn litigants
A Lagos State High court judge,  Justice Hakeem Oshodi  has warned litigants, specifically supporters of parties not to drop juju (charms) in his courtroom amid the trial of five men charged with the murder of one Ifeanyi Godfrey Etunmuse.
The judge issued the warning on Monday and warned the litigants and their supporters about leaving charms in his courtroom and  not cause a repeat of incident where a juju (charms) was found after the last court date of his hearing of the murder case.
The judge, who referred to the charm as 'property', warned the members of public , "Do not leave your property here again. It doesn't work anymore."
Earlier in the trial, the defence counsel continued with the cross-examination of the prosecution witness, Babatunde Olayinka.
Olanrewaju Ajanaku, the lead defence counsel to the first, second, and third defendant, and later on the fifth defendant, asked Olayinka whether he could say that the defendants had a hand in the attack on the deceased.
He also asked him if he was able to get a view of the compound of the local politician and funeral services businessman, Oluwatosin Onamade from his hiding place following the alleged attack.
The witness told the court that he hid himself in the cemetery by laying down for a while to from a group of men that he saw wielding machetes at the Onamade compound on the day of the incident, April 16, 2021.
The witness further told the court that as he hid himself from the machete-wielding men, he turned around and saw a dead body beside him.
Ajanaku asked the witness, "Can you say emphatically that the first, second, third and fifth defendant had anything to do with the [dead] body?"
The witness replied that he could not say emphatically that the defendants had anything to do with the body.
The defence counsel to the fourth defendant, Mahmud Adesina, continued with the cross-examination of the prosecution witness and questioned him on whether he had told the court earlier that Femi Onamade, a relative of Oluwatosin Onamade, was the one who knew the defendants in person.
Olayinka affirmed that it is Femi who knows the defendants and Oluwatosin who can identify them.
The prosecution counsel, M. T. Adewoye, re-examined the witness and asked him to clarify what he meant when he told the court earlier that he could not identify the defendants.
Olayinka told the court that he indeed saw the machete-wielding men when they came into the compound.
Adewoye requested the court to issue a witness summons for Femi Onamade to appear in court.
Oshodi issued the witness summons for Femi Onamade.
The judge adjourned the matter till February 19, 2024, for the continuation of trial.