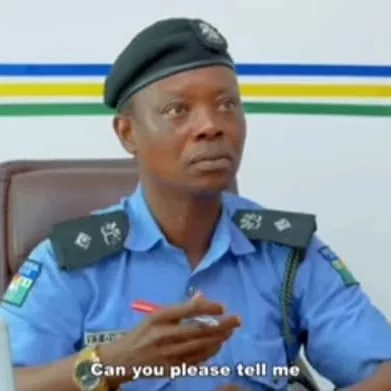 Police Force Praises Ace Actor, Owolabi Ajasa For Portraying Good Image Of Police In Movies
The Nigeria  Police Spokseperson, CSP Muyiwa Adejobi (FPRO) has gleefully commended the efforts of nollywood actor, Owolabi Ajasa, the Governor of TAMPAN (Theatre Arts And Motion Pictures Practitioners Association Of Nigeria) Ogun State, for always portraying the NPF in a good light in his films, "even more than some officers of the Force".
The actor, Owolabi Ajasa who is known for playing the role of a police officer in many of his movies and rose to fame after featuring in the movie Adanwo Olopa.
Owolabi whose next birthday falls on the 3rd of May, is from the Odede Local Government area of Abeokuta.
The FPRO said he has been crossing tip staves and relating with him and many others in the film industry for more over a decade as a PR practitioner in the NPF.
Adejobi added that  Owolabi stands out because he's so consistent with his role as an officer in the film industry. I can say today that owolabi is a great ambassador of the NPF".
The FPRO wants others to emulate him and do the right thing by regulating the use of police kits and accoutrements used in movies in an appropriate manner that wont cause any friction between the police and the entertainment industry, especially the skit makers.
He also wants all stakeholders to be on the same page for the betterment of the two institutions in Nigeria.
"Thank you, Owolabi Ajasa, I celebrate you and value your consistency, CSP Adejobi said"