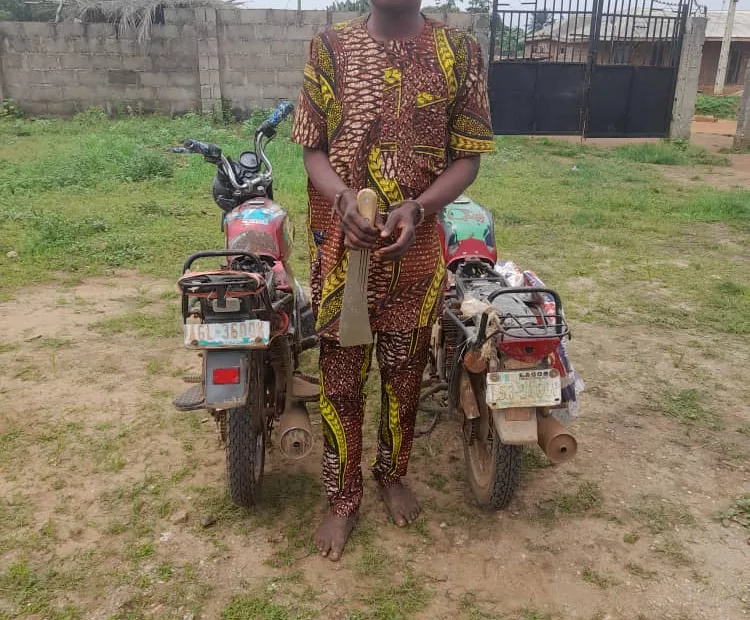 Police Capture Infamous Motorcycle Snatching Gang, Seize 2 Bajaj Bikes
Ogun State Police Command operatives from the Igode Division have arrested a member of a notorious motorcycle snatching gang. The arrest took place on August 23, 2023, around 18:30hrs, as the suspects attempted another robbery. The gang, consisting of Wasiu Adebanji (28) from Malatori Area, Ogijo, Ogun State, along with Opeyemi Olatoye and John Awoniyi, was intercepted by members of the Volunteer Neighborhood Watch.
During the interception, Olatoye and Awoniyi managed to escape with a short cutlass. However, Adebanji, found with another hidden cutlass, was successfully apprehended. The swift response of a patrol team led by the Divisional Crime Officer prevented potential mob violence against the suspects, facilitating their arrest.
Preliminary investigations revealed that the trio had been part of a well-structured syndicate specializing in motorcycle snatching since March 2023. Police recovered two suspected stolen BAJAJ motorcycles from Adebanji's residence. Efforts are underway to capture the remaining syndicate members who fled the scene.
CP Alamutu Abiodun Mustapha, the Commissioner of Police, praised the Volunteer Neighborhood Watch for their courage and prompt action. He also commended the timely intervention of the police patrol team. The public is urged to stay vigilant and report any suspicious activities to ensure a safer environment for everyone.
Pending the completion of investigations, the suspects will be charged in accordance with the law.