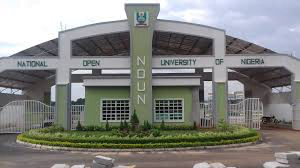 Ogun Matriculate14 Inmates Into NOUN
Fourteen inmates of Ogun State Medium Security Custodian Center and Borstal Institute, Adigbe, all in Abeokuta, the Ogun State capital, were, Friday, matriculated into the National Open University of Nigeria, NOUN.
SydeNews reports that the total inmates at the Ibara Custodial Center studying various degree courses is 76, the new matriculants will study course such as Public Administration, Computer Science, Human Kinetics, Peace and Conflict Resolution, Film Production, Information Technology, Mass Communication and Philosophy.
The Vice Chancellor of the University, Prof. Olufemi Peters in his address, charged the inmates to take the life changing opportunities available to them very seriously.
Peters, who was represented by Dr. Segun Adenuga, the Director, Abeokuta Study Center, assured the inmates of NOUN's commitment to making their study seamless and peaceful.
He urged them to have thirst for knowledge and be a generation that will join hands with others in diaspora to to forge a better future for our nation after their release.
The VC expressed the gratitude of the NOUN to the Correctional Center for its support and specially appreciated the Controller of Correctional Service, Ogun State Command, Abdurasheed Alimi, for his open door policy.
Earlier in his welcome address, the Controller General of Corrections, Haliru Nababa who was represented by Alimi, implored the matriculating students and other inmates to embrace opportunity  offered to them by NOUN to add value to their lives.
He reiterated that the occasion underscores the core mandate of the Nigerian Correctional Service (NCoS) which is to reform and rehabilitate those in its care and subsequently reintegrate them back to the society.
He informed that this will reduce recividism rates, improve and increase employment opportunities for those who take the program serious.  
Haliru noted that over 3, 000 inmates are currently undergoing various profound and life changing programmes with the NOUN and other Higher institutions that are in partnership with the Service.
While appreciating the effort of development partners in this worthy course, the CG used the opportunity to call on members of the public to look beyond the old broken life of offenders and consider assisting them to settle peacefully in the society as this is the only way to break the circle of reoffending. 
The Corrections boss assures of his irrevocable commitment to the safety and comprehensive reformation of the offenders in his care.