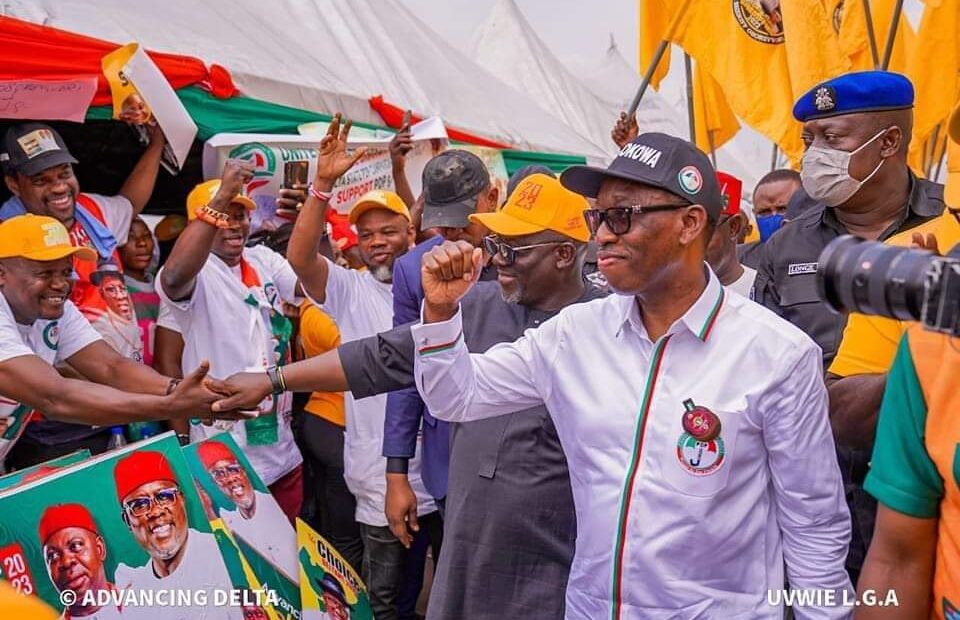 Nigeria Needs To Be Rescued From APC-led Administration-Okowa
Governor of Delta and the Vice-Presidential Candidate of Peoples Democratic Party (PDP), Sen (Dr) Ifeanyi Okowa, says 2023 is a pivotal year and Nigeria must be rescued from the present administration.
Oko wa made this declaration while congratulating citizens on the new year.
He said, in a New Year message broadcast on national radio and television on Sunday, that with the general elections a few weeks away, 2023 promised to be a great year for Nigerians as they prepare to elect new leaders for the country.
Okowa remarked that Nigerians had a turbulent 2022, grappling with unabating insecurity, rising hunger and poverty and an economy plagued with huge debts.
As he congratulated Nigerians for entering the new year, he condoled with the family of Lagos female lawyer, Bolanle Raheem, killed by a police officer on Christmas day,  and called on the police authorities to ensure that justice was done on the matter.
"First, let me say Happy New Year to all of us. Those of us that are alive to witness the birth of 2023 have every reason to thank God for His manifold mercies and sustaining grace.
"It is my desire and prayer that our hopes, dreams, and aspirations as individuals, families, and Nigerians will come to fruition in this pivotal year," he said, and explained that the new year was pivotal because Nigerians would, in a few weeks, go to the polls to choose new leaders.
The governor said that the All Progressives Congress (APC)-led Federal Government had plunged Nigeria and its citizens into untold hardship.
According to him, Nigeria needs to be rescued and rebuilt from the misrule of the APC-led administration.
"In all the indices of development, Nigeria has never had it so bad; insecurity is pervasive, inflation is skyrocketing daily, public infrastructure is in shambles, and over 133 million Nigerians are poverty-stricken, according to the latest report from the National Bureau of Statistics.
"Even worse is that this administration has done more to divide Nigerians than unite us. Our young professionals, angry and frustrated by the current climate of hopelessness, are leaving the country in droves. We just cannot continue like this.
"Nigeria needs to be rescued and rebuilt from the misrule of the APC-led Administration. For that to happen, I urge all Nigerians to think rationally, objectively, and dispassionately in our choice of candidate.
"Let us shun ethnicity, religion and nepotism. Instead, we should think of competence, experience and someone with a proven record of solutions. These are the qualities we need in the in-coming President," he said.
The Vice-Presidential Candidate affirmed that Alhaji Atiku Abubakar "is the leader Nigeria needs at this time because he exemplifies all needed qualities".
"He is detribalized, cosmopolitan, a unifying figure, a successful businessman and a pan-Nigerian.
"As a former Vice-President, his management of the economy was stellar, and Nigeria stands to gain from his wealth of experience.
"As his running mate, I also possess the requisite knowledge and experience to help him with the task of building the Nigeria of our dreams.
"I appeal to us to vote wisely and let us get Nigeria back on track urgently.
"Once again, I wish you all a very happy, productive, fruitful, and prosperous 2023," he stated.