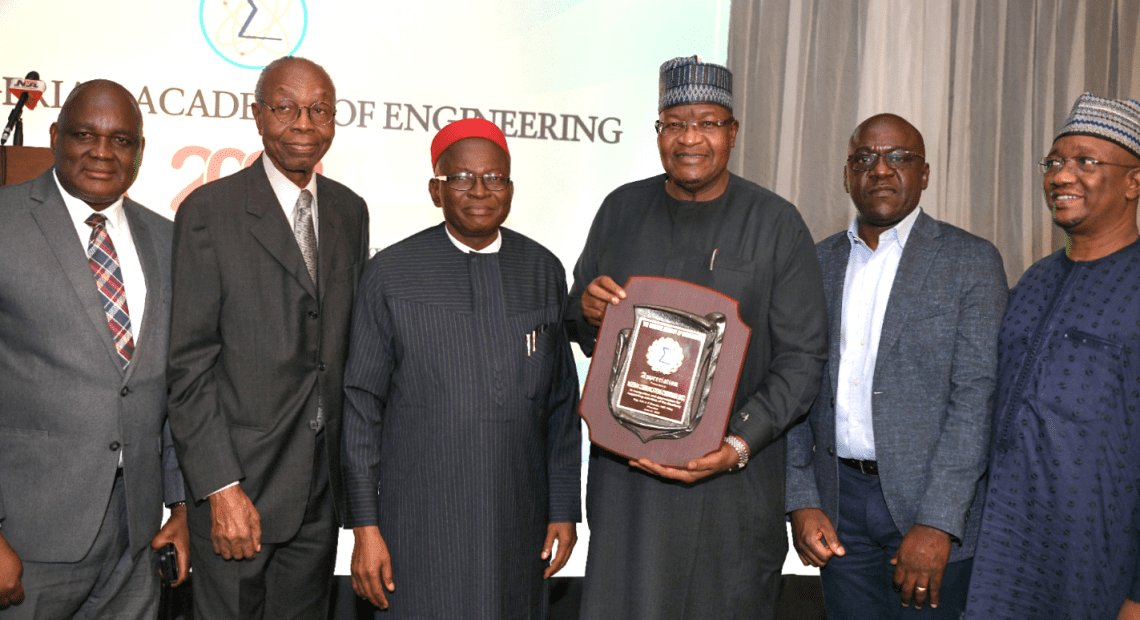 NCC's Danbatta Honored With Platinum Award By NAEng For Outstanding Performance
The Executive Vice Chairman of the Nigerian Communications Commission (NCC), recently received the prestigious Platinum Award from the Nigeria Academy of Engineering (NAEng) in recognition of his outstanding leadership in regulating the nation's telecommunications industry and his significant contributions to the growth and development of the engineering profession, which plays a crucial role in the technological and economic advancement of the country.
During the award presentation at the 2023 Annual Technology Dinner of the Academy, the President of NAEng, Prof. Azikiwe Onwualu, praised the Commission for its commendable regulatory processes and its strong support for the engineering field, stating that the NCC is deserving of this honor. The award was presented by Vincent Maduka, a prominent engineer and former Director General of the Nigerian Television Authority.
Vincent Maduka, while presenting the award, acknowledged the immense contributions of Prof. Danbatta to the sustainability of various initiatives within the engineering profession. He also highlighted the positive impact of Prof. Danbatta's leadership in regulating the telecommunications sector, emphasizing the role it has played in the overall development of the engineering field in Nigeria.
Expressing his gratitude upon receiving the award, Prof. Danbatta, a distinguished professor of electrical and electronics engineering and a member of the Council and Fellow of NAEng, dedicated the honor to the hardworking and dedicated staff of the Nigerian Communications Commission. He recognized their unwavering commitment to supporting his vision of promoting regulatory excellence in order to foster the growth of Nigeria's digital economy.
Prof. Danbatta emphasized that the Commission's accomplishments, which led to this recognition, were a collective effort and attributed the success to the cooperation and support of the NCC staff. He expressed his satisfaction that the public has been observing and acknowledging the Commission's work, exemplified by the prestigious Platinum Award bestowed upon them by the apex engineering body in the country.
Furthermore, Prof. Danbatta assured the public that the NCC remains committed to leveraging its mandates to introduce impactful initiatives that will drive the digital transformation process and ensure affordable and widespread access to telecom services throughout Nigeria. He took the opportunity to highlight some of the Commission's successful initiatives, including programs aimed at training and equipping Nigerian youths with laptops and internet access to enhance their skills and employability.
Regarding the goal of digital connectivity, Prof. Danbatta reiterated the Commission's dedication to bridging existing access gaps in Nigeria and achieving a 70% broadband penetration rate by 2025, as outlined in the Nigerian National Broadband Plan (NNBP). Currently, the country stands at approximately 50% broadband penetration, and Prof. Danbatta expressed optimism in surpassing the target.
The Nigerian Academy of Engineering serves as a platform for experts in science, technology, and engineering to collaborate and contribute their experiences and insights to shape public and private technical policies, while also striving for excellence in these fields.