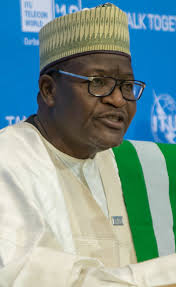 NCC CEO Advocates For AI-At DACE 2023
The Executive Vice Chairman/Chief Executive Officer (EVC/CEO) of the Nigerian Communications Commission (NCC), Prof. Umar Garba Danbatta  has called for harnessing the transformative potential of Artificial Intelligence (AI) in Africa.
He made the call at the 11th Digital Africa Conference and Exhibition (DACE) kicked off while delivering a keynote speech.
The event, held from September 19 to 21, 2023, at the Reiz Continental Hotel in Abuja, centered around the theme "Artificial Intelligence and Africa."
Notably, the EVC/CEO was represented at the event by Dr. Emilia Nwokolo, the Head of Consumer Information and Education at the NCC.
The conference brought together prominent figures, policymakers, experts, and industry leaders to explore the transformative potential of Artificial Intelligence (AI) on the African continent.
In his keynote address, Prof. Umar Garba Danbatta highlighted the significance of AI in driving economic growth, social development, and innovation across Africa.
He emphasized AI's potential to revolutionize various sectors, including healthcare, agriculture, finance, transportation, education, and governance.
However, the EVC/CEO also underscored the need for addressing key challenges to fully embrace AI's benefits. These challenges include expanding digital infrastructure, prioritizing digital skills development, ensuring ethical AI practices, and fostering collaboration among various stakeholders.
Prof. Danbatta emphasized the importance of investing in digital infrastructure, such as broadband connectivity, and creating a conducive regulatory environment.
He also stressed the need for educational and training programs to equip the youth with AI-related skills, thus positioning Africa as a significant player in the global AI landscape.
The EVC/CEO further emphasized that ethical considerations must guide AI deployment, ensuring transparency, accountability, fairness, and data security. AI should serve as a force for inclusivity, leaving no one behind.
"Collaboration and partnerships among governments, regulatory bodies, academia, the private sector, and civil society were highlighted as essential to unlock AI's potential in Africa."
The Nigerian Communications Commission reaffirmed its commitment to support AI technology development in Nigeria and across the continent. Initiatives include establishing an enabling regulatory framework, collaborating on AI research and development centers, and fostering AI talent through startup ecosystems.
The 11th Digital Africa Conference and Exhibition underscored the transformative power of AI for Africa's future. It called for collective efforts to build an inclusive, sustainable, and AI-powered Africa, highlighting the role of technology in shaping the continent's destiny.
The event continued with panel discussions, workshops, and exhibitions, offering attendees a platform to delve deeper into the possibilities and challenges of integrating AI into Africa's development agenda.