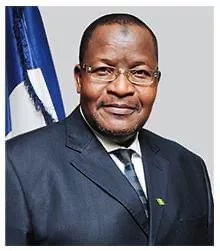 NCC Cautions Public Over Impersonation Scam On LinkedIn
The Nigerian Communications Commission (NCC) wishes to inform the public about a deceptive LinkedIn account posing as the office of the Executive Vice Chairman (EVC), Prof. Umar Garba Danbatta.
The fake account has been created by unscrupulous individuals with the intention of defrauding unsuspecting members of the public and social media users who might believe it belongs to the EVC of NCC.
To clarify, Prof. Umar Garba Danbatta, the EVC/CEO of NCC, does not have a LinkedIn account. Therefore, any such account claiming to be his on social media or any other platform is false.
The NCC is actively collaborating with relevant security agencies to investigate the origins of this fraudulent act and put an end to it.
We urge the public and our valued stakeholders to exercise caution and be vigilant while using social media, as there are many deceitful individuals and groups seeking to defraud unsuspecting users.
For credible updates and announcements, please follow the NCC's official social media accounts and verify information on the NCC's official website (www.ncc.gov.ng).
We strongly advise everyone to be cautious when accessing or using information from social media platforms. Your safety and security are of utmost importance to us.