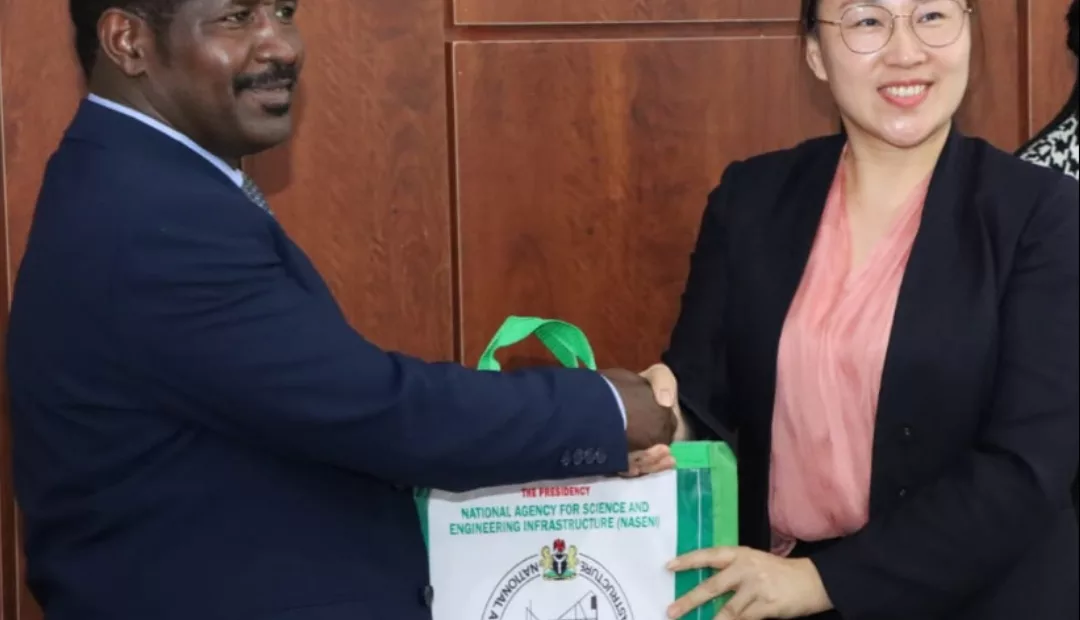 NASENI Extends Invitation to Lithium Battery Producers For Manufacturing In Nigeria
· Receives Chinese delegation
The National Agency for Science and Engineering Infrastructure (NASENI) is appealing to investors for collaboration in the local production and domestication of lithium batteries and other renewable energy solutions.
Dr. Bashir Gwandu, the Executive Vice Chairman/CEO of NASENI, expressed this call during a meeting in Abuja, stating that the Agency is prepared to partner with international companies interested in establishing their industries in Nigeria. The aim is to commence local production of renewable energy solutions, components for electric vehicles, and other capital goods that can generate employment opportunities while reducing Nigeria's dependence on foreign goods, which puts pressure on the country's foreign exchange.
Dr. Gwandu revealed that NASENI is already actively involved in solar panel production, and in the near future, the agency plans to attract solar cell manufacturing to complement its existing work on solar panel assembly. He mentioned that NASENI has been holding meetings with companies worldwide to explore partnerships for local production of lithium-based end-products in Nigeria, as opposed to the conventional practice of exporting raw materials for processing outside the country.
The primary objective of NASENI is to bridge the technological gaps between Nigeria and other countries, foster the domestication of technologies, promote capital goods production and commercialization within Nigeria, and discourage the importation of such technologies. NASENI will collaborate with the National Automotive Design and Development Council (NADDC) to encourage the development and production of electric vehicles, including the conversion of existing vehicles to electric-powered ones. Additionally, NASENI is engaging with various stakeholders to promote the installation of electric vehicle charging stations along major roads throughout the country.
Dr. Gwandu emphasized that Nigeria welcomes foreign companies to establish their operations within the country, particularly those willing to produce locally. NASENI is committed to providing support and ensuring an enabling investment environment.
The Executive Vice Chairman of NASENI hopes that this invitation serves as an opportunity for potential partners interested in manufacturing within Nigeria. He disclosed that the Federal Government would prioritize the company that approaches them first. Regarding the production of lithium batteries, the Agency is ready to enter into partnerships with companies willing to establish their factories in Nigeria. Dr. Gwandu proposed that NASENI and LEMI Technology collaborate on various aspects of lithium battery production while ensuring compliance with safety and environmental regulations in Nigeria.
Highlighting NASENI's focus on lithium battery and inverter production, Dr. Gwandu expressed his satisfaction with working on a memorandum of understanding (MoU) with LEMI Technology. The aim is to establish the safest means of producing lithium-based batteries, taking into account Nigeria's environmental conditions.
Ms. Joyce Chen, the founder of LEMI Technology, expressed her company's readiness to partner with NASENI and invest in Nigeria. She expressed optimism about a fruitful relationship with NASENI and the Nigerian government. The delegation from LEMI Technology included Mr. Rocky Hu (Chief Investment Officer), Ms. Biju Yao (Chief Financial Officer), Ms. Monica Liang (Oversea Business Director), and Engineer Mr. Lucia Peng.
During the visit, Mr. Xie Feng, the Chief Executive Officer of LEMI Technology, expressed his company's willingness to collaborate with NASENI through an MoU on renewable energy, focusing on products such as solar and television panels, inverters, and battery production. Mr. Feng noted the longstanding friendship between Nigeria and China and stressed the importance of investment opportunities in Nigeria due to its large population. He mentioned that LEMI Technology has been operating in the Nigerian market since 2018, creating job opportunities for Nigerians and supplying renewable energy products to over 200,000 households.
NASENI is Nigeria's only purpose-built agency with a specific mandate for research, production, and reverse engineering of capital goods. Its areas of expertise encompass Engineering Materials, Industrial and Analytical Chemical Materials, Scientific Equipment and Components, Engineering Equipment, Engineering Designs and Standardization, and Power Equipment.
Upon assuming his role, one of the projects initiated by Dr. Gwandu was to engage key lithium exporters within Nigeria and encourage them to invite their offtakers from different parts of the world to invest in end-product production in Nigeria. He urged them to seize the opportunity and take advantage of being early movers. NASENI would support these companies by promoting government policies to restrict the export of lithium, except for those types that Nigeria cannot process into end-products.
Dr. Gwandu emphasized that Nigeria cannot continue to export raw lithium if other countries such as Zimbabwe have gone to the extent of lithium processing. He stated that Nigeria should be at the fore-front of battery production since it has all the relevant raw materials including Phosphate.
He stated that in any area where NASENI can attract manufacturers be it in renewables or other areas such as aerospace industries, any company that can come to Nigeria and process the raw elements into end-product will be supported by NASENI. Companies invited for earlier discussion on the Lithium included suppliers to CATL and LEMI of China.
Today the EVC received the first delegation from LEMI of China to start conversation on the local production of various types of lithium batteries and other products in the photovoltaics value chain.