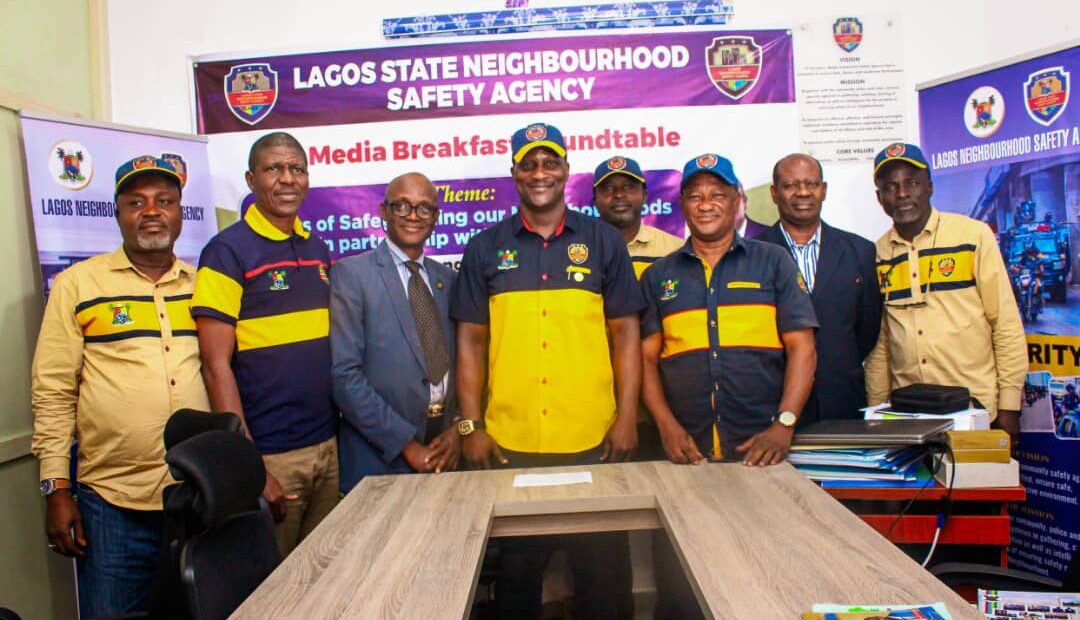 LNSA GM, Prince Oyekan Reels Agency's Achievements In 5-Years
•Says Rebranding, Reposition Has Helped  Transform LNSA
Prince (Dr) Ifalade Oyekan, the General Manager of Lagos State Neighborhood Safety Agency (LNSA)  has  reeled out the numerous achievements of the Agency in the last five years.
He disclosed that the Agency has been able to achieve this numerous feat, through rebranding  and friendly relationship between its officers and communities in Lagos neighborhoods
The GM made this disclosure on Tuesday during Media Breakfast Roundtable with the theme: " 5-Years Of Safeguarding Our Neighbourhoods In Partnership With The People", held at the Lagos State Multi Agency Center, Bolade Oshodi.
Reeling out the Agency's achievements in the last five years, Prince Oyekan noted that the successes recorded so far is due to the rebranding that it's administration has embarked on since he took over.
Prince Oyekan added that when he assumed office as the General Manager of LNSA, the state Governor, Babajide Sanwo-Olu gave him the mandate to rebrand the LNSA and  kicked stated by following up on the mandate.
According to him, "Part of what we put in place when we came on board in 2021 is a  5-point agenda which includes: "Rebranding and Reposition under which we introduced professional services through specialized unit , improvement of discipline of officers, creations of key performance indicators through monitoring and evaluation and restructuring for efficiency and effectiveness.
"We are also collaborating with other sister agency like the Nigeria Police force, Nigerian Army, the Department of State Services (DSS) among others through the provision of credible intelligence to all law law enforcement agencies, engagement with all first responders during emergencies.
"Our Agency also engages in constant surveillance of the communities and creation of crime data bank through safety and security. Through our rebranding on logistics and technology, our Agency  is the first to introduce body worn cameras. We have over 233 body-worn camera as the first agency to use it in Nigeria. We collate our datas and backend informations. We are not relenting on our efforts. We have also introduced the use of drone which has been very effective. We generates and collate information about an area and that has given us the edge on knowing the terrains so well.
"Part of the rebranding done was also to upgrade the communication system including the procurement of Hollow mast to replace the angular masts that is outdated. We also deployed telephone lines to the 56 local governments and also provides and distributed modern working tools; very soon, we will make the numbers public so that people can call to report incidents  directly to us.
Also, procurement and replacement of worn-out vehicles  and creation of more territorial offices across the states.
Engagement and improved visibility through constant meetings with communication leaders through the CDAs, CDCs, religious and traditional institutions have also been tools that we have been using."
The GM added that collaboration with local security and safety networks as well as development of safe and anonymous crime reporting mechanisms has helped to take the agency to the next level.
"We know our Neighbourhood so well because our officers are members of the neighborhood, that is why we are so friendly and accommodating in our environment and this have help us in the area of information gathering.
"Discipline of our law enforcement officers has also been in top notch. You will notice that our appearance is not different from what it used to be , we also discipline our officers and checkmate them. We are not an agency that sit down at the office, we are on the streets to monitor what's happening there.
The in-house training we engaged  in from time to time is usually based on safety and security. That has improved the way we give our services to the community and all these have helped  improved the way we give our services to the community."
Prince Oyekan however stated that all these numerous achievements wouldn't have been made possible if the Agency didn't have the support of the state government. He thanked Gov. Babajide Sanwo-Olu for his support towards helping the agency achieve its goals.
Meanwhile, he identified some of the challenges that the Agency is currently facing and this includes shortage of staff in some local government. He noted that some have been drafted as constables into the Nigeria police while some are due for retirement.
"However, with the less number of staff, we still do our jobs diligently. Though are planning to employ above one thousand officers to ensure state security to add to the ones on ground," he said.