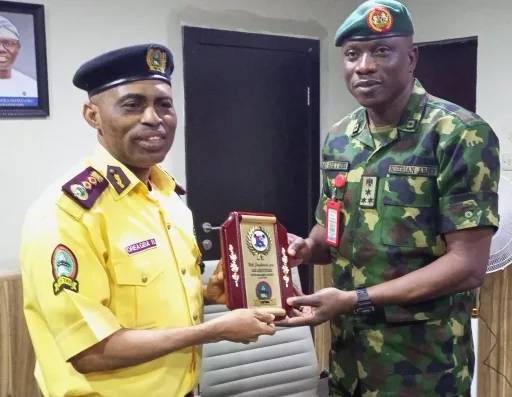 LASTMA, Nigerian Army Foster Closer Relationship After Officers Clashes
Officials from the Lagos State Traffic Management Authority (LASTMA) and the Nigerian Army have restated their commitment to strengthening their collaboration in managing traffic within the city.
Mr. Bolaji Oreagba, the General Manager of LASTMA, shared this during a recent visit by officials from the 9 Brigade Command of the Nigerian Army, led by Brigadier General Adegoke Moses Adetuyi.
The GM of LASTMA expressed appreciation for the visit and underscored the importance of a strong partnership between the two organizations. He acknowledged a previous incident involving a LASTMA officer and a soldier, but assured that it wouldn't negatively impact the cooperation between the two entities.
Mr. Oreagba highlighted the shared reliance and support between the agencies and promised to maintain open communication channels to prevent similar incidents in the future.
Brigadier General Adegoke Moses Adetuyi emphasized the significance of unity among security agencies and government bodies. He commended the efforts of LASTMA officials and pledged continued support from the Nigerian Army's 9 Brigade Command to ensure the safety of traffic managers during their duties.
The visit included Major A.A Nasir, Major A. Sanusi, Major A.A Onwemene, Major A.K Ballo, and LT T.H Owoyemi from the Nigerian Army, as well as LASTMA officials: Mr. Peter Gbejemede, Mr. Apena Biliaminu, Mr. Adeoye James, Mr. Macaulay Modupe-Ore, CSP Ajibola Abayomi, and Adebayo Taofiq.