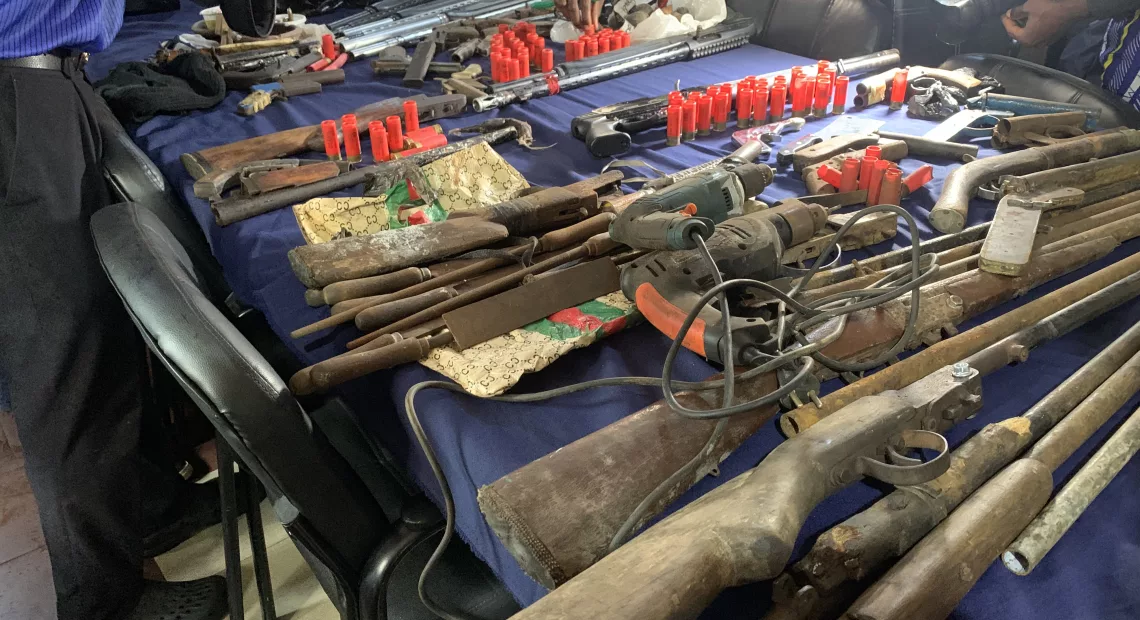 Lagos Police Uncover Illegal Gun Manufacturing Syndicate
In ongoing efforts to eliminate illegal firearms within the state, the Lagos State Police Command has successfully dismantled an illicit gun manufacturing operation in the Ibeju-Lekki region.
As part of this operation, two individuals were apprehended for their involvement in producing firearms found in the factory.
The Lagos State Police Commissioner, CP Idowu Owohunwa, announced this development and revealed that the suspects were cooperating with the police by providing valuable information.
Owohunwa reported that on September 11, 2023, at around 4 pm, the police, acting on credible intelligence, conducted a raid on a blacksmith's shop engaged in the production of firearms for sale to criminals in Idata Village of Ibeju-Lekki. This operation resulted in the arrest of Musiliu Gbenga, 21, and Owolabi Azeez, 22.
The items confiscated from the illegal arms manufacturing site included three single-barrel locally-made pistols, one double-barrel locally-made gun, one single-barrel locally-made gun, two single-barrel locally-made long guns, ten expended cartridges, 12 long pipes, two drilling machines, one gas cylinder, one vehicle, and various tools used in the fabrication process.
Furthermore, CP Owohunwa disclosed that a total of 32 suspects were apprehended, involved in various crimes such as product adulteration, firearm production, armed robbery, theft, and cultism.
The police managed to recover 25 firearms, including a toy gun, 74 live cartridges, 12 expended cartridges, 12 long pipes, two drilling machines, one gas cylinder, one vehicle, and other fabricated tools. Additionally, two daggers, one UTC axe, various charms, and 251 adulterated wires were seized.
The police also arrested two suspected cultists, Omotosho Olanrewaju, 27, and Alabi Damilare, 20, with investigations revealing their involvement in a cult group.
Furthermore, on October 8, 2023, one Quadri Fawas, 18, was arrested, and investigations revealed that the suspects are members of a cult group.
"In October 6, 2023, one Modile Juwon, also known as Number two, 35, was arrested. Investigation revealed him to be the second in command of a cult group operating and terrorizing the Grammar school area of Ikorodu," he said.
The Lagos State Police boss also reported that two individuals were arrested for illegal possession of firearms.
"On September 1, 2023, at about 11 pm, operatives of the Command arrested one Lukmon Jimoh, 35, and Chukwuemeka Okwasilieze, 28, who were seen loitering around Ibeju-Lekki. One locally-made pistol, one toy pistol, one cartridge, one dagger, one UTC axe were recovered from them. They are suspected members of a "one chance gang."