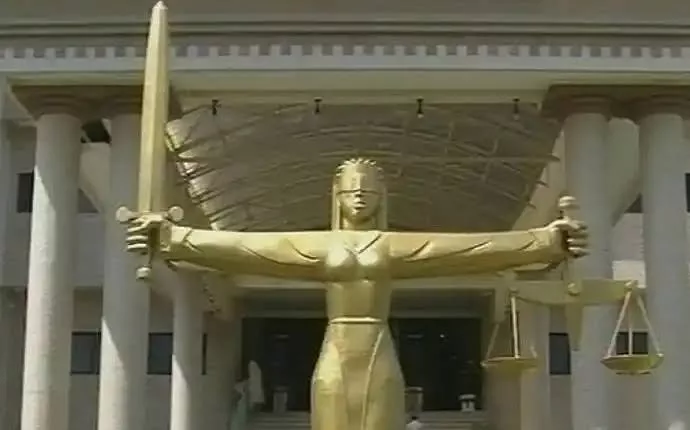 Inquest To Unravel Tragic Death Of Boy With Missing Intestine, Adebola Akin-Bright Begins
Coroner Inquest to unravel the circumstances surrounding the tragic passing of young Master Adebola Akin-Bright, the boy who tragically lost his life at LASUTH and had a missing intestine commenced on Friday.
The proceedings took place at the Magistrate Court 4 in Botanical Gardens, Ebute-Metta, under the oversight of District Coroner, His Honour Mrs. Bola Folarin-Williams.
Legal representation was present from various parties. Mrs. Abiodun Kolawole stood on behalf of the African Women Lawyers Association.
The complainant, Mr. Olumuyiwa Akin-Bright, was represented by Mr. Ebun-Olu Adegboruwa, along with Mr. Aramide Adeogun and Mr. Ezekiel Nnadi. Additionally, Mr. O.A. Akinde, representing the Lagos State Government, was present as an interested party.
During the proceedings, Mr. Akinde informed the court that necessary tests and post-mortem examinations had been conducted on the deceased. The Attorney General's office had received letters from solicitors representing the deceased's father, who wished to preserve the corpse, and the mother, who sought its release for burial.
The state did not object to either request and left the decision to the court.
Mr. Adegboruwa expressed the complainant's desire to call witnesses, including the medical director of Hobitox Medical Centre, where the deceased was initially treated, the doctors who attended to him at LASUTH, and the investigating police officers.
This was to gain a comprehensive understanding of what had transpired.
The Coroner mentioned that the autopsy report would soon be available and should be shared with all parties. She suggested that the deceased's parents file applications regarding the handling of the corpse so that the court could make a ruling.
Mr. Adegboruwa proposed an independent examination of the deceased's body by experts, such as the Nigerian Medical Association, to prevent any potential bias or conflicts of interest since the death occurred at LASUTH.
He also revealed that Mr. Femi Falana, SAN, was the lead counsel for the mother of the deceased and suggested coordination between the mother and father's legal teams. The preservation of the deceased's body was deemed important, as the Coroner had already assumed jurisdiction.
Mr. Akinde assured the court that the state was willing to cooperate by providing witnesses and documents, including the medical professionals from LASUTH.
The Coroner clarified that this initial hearing was for preliminary proceedings to outline the path for the inquest. She requested the parties to collaborate and submit a list of witnesses before the next session.
She mandated the sharing of the autopsy report and necessary documents with all parties involved.
The case was thereafter adjourned till November 24, 2023, for further proceedings.