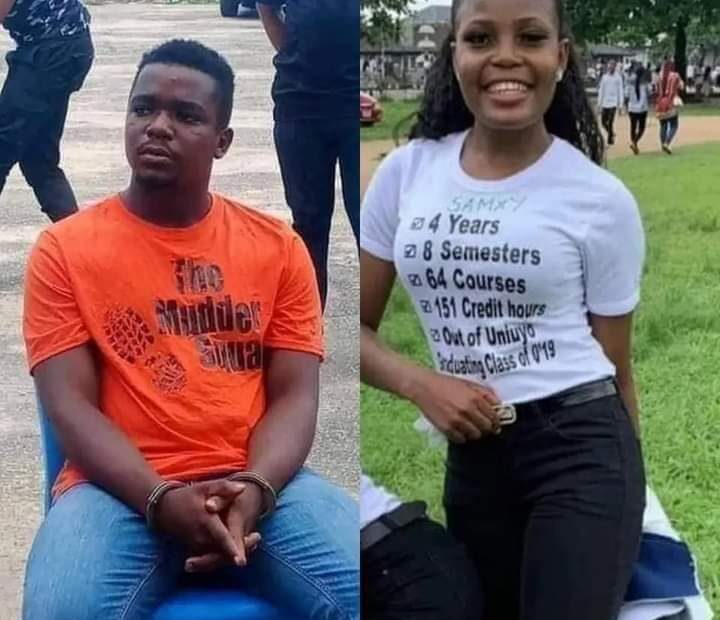 Iniubong Umoren, Killer Of Akwa-Ibom Job-Seeker To Die By Hanging
An Akwa Ibom State High Court, sitting in Uyo, Akwa Ibom State capital has sentenced Uduak Frank, Murder of late job Seeker, Iniubong Umoren to die by hanging.
The court however discharged and acquit his father, Frank Akpan and sister, Bassey Anwan, second and third accused persons respectively.
Delivering the judgement in High Court Nine(9) in Uyo on Thursday, the Judge, Justice Bassey Nkanang  said the conviction was based on the grounds of rape and murder.
The judge said Uduak Akpan is to die by hanging for killing Iniubong Umoren, a job seeker who was invited by  Akpan for a job interview.
The two-part judgement held that while he was being sentenced  to life imprisonment for the case of rape, he was also to die by hanging for the case of  murder. 
It could be recalled that Late Iniubong Umoren, a graduate of Philosophy, University of Uyo, (UNIUYO)
was allegedly raped, murdered and buried in a shallow grave by a suspected serial rapist and killer, Uduak-Abasi Akpan, in April 2021
Uduak Akpan had reportedly lured his victim, who was 26years old before her demise, to his family residence at Nung Ikono Obio village in Uruan local government area with a job offer where he had allegedly raped, murdered, and buried her in a shallow grave within the premises.
The body was later exhumed from the shallow grave by the Police team, who were guided by the prime suspect
Our Correspondent reports that the defendant, Uduak Frank Akpan had during the trial  confessed that "I first used condom to have sex with Iniubong Umoren and later removed the condom because I did not enjoy the sex. She became infuriated and I reached out to a stabilizer and a box iron and used it to hit her abdominal part and she started to bleed. I hit her again and she screamed. I used her jean trouser and strangled her and she became lifeless."
The Court therefore held that 
"The use of dangerous weapons such as a stabilizer and a box iron to attack delicate parts of the human body as the head, was a clear pointer that there was an intention to cause bodily harm and that death was probable the consequences of the action"