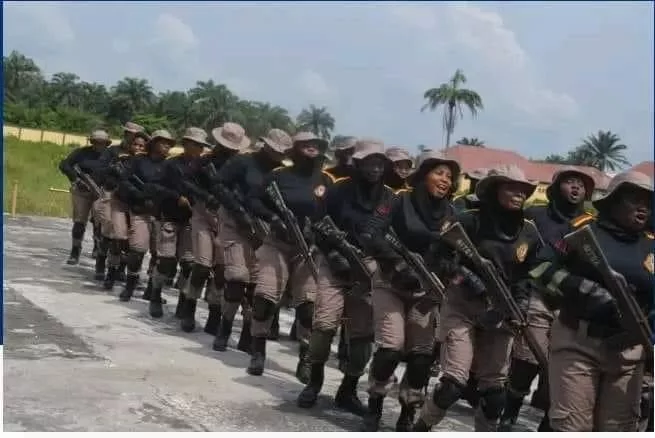 Immigration Promotes 7,000 Officers, Redeploys 12 Comptrollers
•As Akuneme Assumes FCT Leadership, Dada Appointed PSO to CG Adepoju
In a recent development, the Acting Comptroller General of the Nigeria Immigration Service, Wuraola Adepoju, has authorized the promotion of approximately 7,000 officers and personnel across various ranks. These promotions were approved by the Immigration, Civil Defense, Correctional, and Fire Services Board.
The announcement of these promotions was initially made by Alhaji Jafaru Ahmed, the Secretary of the aforementioned board, in a letter issued to the different services within the Ministry of Interior.
The Acting Service Public Relations Officer, Mr. Kenneth Kure, who himself was promoted to the rank of Assistant Comptroller, released a statement confirming the number of officers and personnel who received promotions. This includes both senior officers who underwent regular examinations and junior staff members who obtained additional qualifications and were subsequently upgraded.
Furthermore, Wuraola Adepoju, the Acting Comptroller General, has approved the appointment of Tony Akuneme, the former Service Spokesman, as the FCT Command Comptroller. Additionally, Joseph Dada has been appointed as the new Principal Staff Officer to the Comptroller General.
Mr. Dada, a graduate of Obafemi Awolowo University, Ile Ife, has served in various capacities within the NIS and, until his recent appointment, held the position of Comptroller in charge of the Marine Border Corps at the Service Headquarters.
It is worth mentioning that 12 Comptrollers were recently reassigned to different states, including FCT, Kano, Jigawa, Ondo, Ogun, and Mfum Border Control, among others.
During a monthly parade, the CGIS addressed the officers and personnel of the Service, emphasizing the importance of upholding the organization's reputation over personal interests. The NIS is recognized as one of the most prestigious professions, being the primary agency visitors encounter upon arriving in Nigeria. Mrs. Adepoju assured her commitment to prioritizing personnel welfare and declared that future promotions would be based strictly on seniority. She expressed her concern over the discouraging sight of more experienced officers being overlooked in favor of newly recruited ones, stating that motivated staff are essential for ensuring quality output.