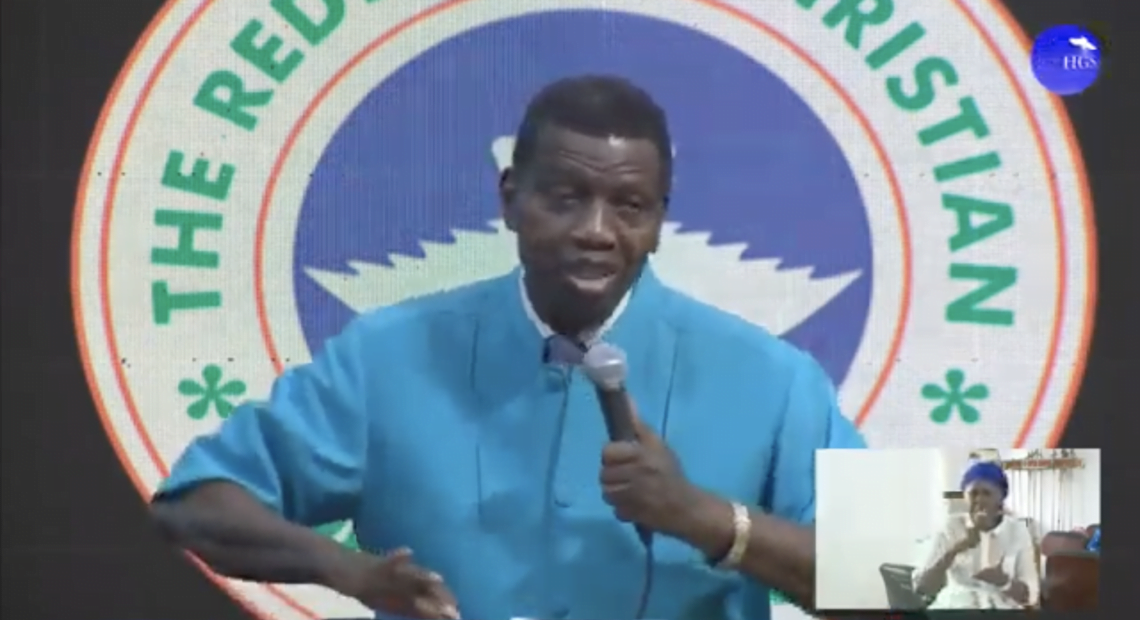 I Am Not A Politician, Would Never Be – Adeboye Replies Critics
The General Overseer of the Redeemed Christian Church of God (RCCG), Pastor Enoch Adeboye has disclosed that he is not a politician and will never be one.
The revered Pastor, while clearing the air on the story that is making round on the social media said he is a pastor and not a politician.l as being speculated by people.
He made this disclosure while ministering at the church's headquarters in Ebute-Meta Lagos.
He said: " My assignment is to pray and it has nothing to do with partisan politics. Those who are genuine members of RCCG will bear with me that I have never told you the party to belong to. I have never said it and I will never say it. In the Redeemed Christian Church of God, all the parties are well-represented.
"The only reason I never voted is that if I vote for anyone, I will be unjust to some of my children because I am the father of all.
" As a Nigerian, we are all Nigerians before we became Christians, we have a duty to the country, to register, vote and ensure that the vote counts. You have a duty to vote for any part of your choice at the very grassroots, you can sit down, refuse to vote about any government when you did not vote and allow all kinds of people to vote and choose a leader for you.
You must register, vote, sit down there and make sure they count the votes and monitor who they say wins.
I don't care which party you belongs to, who you vote for but you must vote.
I know some people's assignment is just to distract me , but I will not be. My assignment is to pray and I will continue to pray for the nation.
"As of now that I am talking to you, I still don't know whether there will be an election next year, because my father hasn't talked to me at all. The last time we had an election he told me by June of the previous years but this is April and he hasn't told me anything yet.
Although, the prophets may have known, but as I speak to you, I don't know yet. The reason he hasn't told me yet is that he has told us not to take note of tomorrow because tomorrow will take care of itself.
There are so many things on my mind now that I want my partners to join me to pray on.. one of those things is Kaduna State.
The questions we need to ask is why Kaduna? Who is trying to isolate Kaduna? Why? After Kaduna which next?
Yet some of you are busy killing your self over 2023."
He further said: About 80% of what should have become the wealth of our nation is going to the wrong hands. So you can see the reason why I am not thinking of 2023 because there is a lot to deal with now.
It is also all over the news that more than 90% of our income from the left over of money stolen from our oil is being used to service loan and then we are borrowing more, meaning we are moving steadily to bankruptcy.
"So you can see the reason why someone like me is more concerned with what is happening now than what is going to happen next year.
"We must pray for Kaduna and other states in the country. We must pray that God will expose those who are stealing our oil and that the almighty will have mercy of our nation. He can also deal with our debts. After all it happened during the era of former President Obasanjo and God can still do it.
"Now you know why I am not a politician and not bother about who is going to become what. For your information, anybody who comes to me for prayer from any party my prayer is always the same for them.
"My prayer for everyone of them is that God's perfect will be done concerning everyone of them because it is written that the most high God rules in the affairs of men and gives it to whoever it please him."
Speaking on why he was asking his children to show interest in politics, he pointed out that even witches are also showing interest, so should Christians now go to sleep?