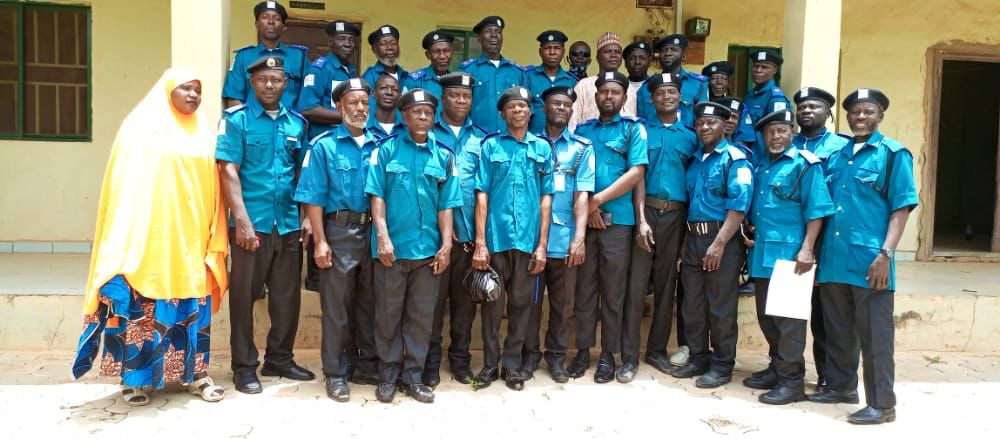 Hisbah Gets N100m Donation From Gov. Bagudu
The Kebbi state Hisbah board, on Sunday marked 20th anniversary since its creation in Kebbi state.
The occation was held at the presidential lodge in Birnin Kebbi and was attended by the Governor of Kebbi state, Senator Atiku Bagudu, secretary to the state government Babale Umar Ahmed, former commissioner of works, Alhaji Abubakar Chika Ladan and top government officials.
Earlier, in his speech, the governor of Kebbi state Senator Bagudu thanked them for inviting him to the programme, adding that, Hisbah existence in Kebbi state has helped immesenly in preventing and curbing immoral acts in the soceity.
He explained that, the soceity has a role to play in crushing bad behavior by being informants to Hisbah operatives whose mandate accepted by government are to prevent acts of alcoholism, prostitutions and drug addiction saying their job has reduced minimally unwholesome attitudes among youths in the state.
On insecurity, Bagudu said that, lack of discipline, proper home training and poor education responsible for the pockets of insecurity disturbing the country " some children grew up to find out they don't have parents or feel the soceity have not done justice to them hence their reasons to indulge in immodest acts, so ultimately those children lack parental care and sound education which could have guide them to know that what they are diong is not good".
He however, on behalf of Kebbi state government announced the donation of one hundred million naira (N100m) to Hisbah, which he said is not even enough because they have offices in the 21 local governments in Kebbi state, he prayed for peace in the country.
In his speech, the representative of the chief luncher, Abubakar Chika Malami, Minister of Justice who was represented by former Commissioner of works, Alhaji Abubakar Ladan announced the donation of 5m  on behalf of the chief luncher(Malami), other donors include APC gubernorship candidate Dr Nasir Idris(NUT) who donated the sum of five hundred thousand and other sub donors.
Hisbah State Chairman, Alhaji Sulaiman Muhammad said that the target is one hundred and fifty million from donors and members of the society. He stated that they are optimistic that they will meet the target. He however thanked the Governor and notable Islamic clerics who contributed  to the success of the Program.