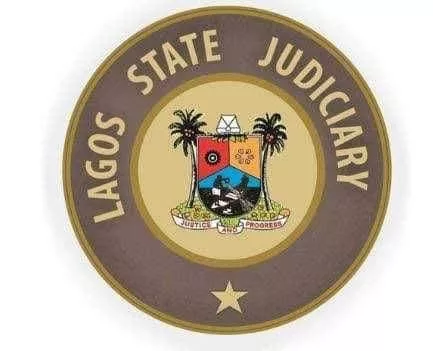 High Court Judge Docks Journalist For Covering Proceedings In Lagos
A journalist from Champion Newspapers, Arinze Nwafor, was docked by Justice Latifat Oluyemi of Lagos High Court, Ikeja, for covering a proceeding in her courtroom without permission.
This happened after the judge delivered a ruling on an interlocutory injunction application instituted by a set of aggrieved traders of the Mile 12 market against the Lagos State Attorney General and Commissioner for Justice.
During the proceeding, the judge dismissed the application based on some anomalies surrounding the writ of summons not being properly signed and that some sections of the documents were not visible for reading, subsequently advising parties to reach an amicable resolution to their dispute.
The ruling did not go down well with the counsel of the aggrieved traders, and there were weird reactions from other lawyers in the court as to why the judge disregarded the merits of the parties' application and raised an entirely new issue suo moto.
While the proceedings were on and threatened by the presence of journalists in her courtroom, the trial judge asked the journalist to step into the dock and questioned him about recording the proceedings in her courtroom.
The journalist admitted recording with a writing pad and pen but did not notify or get permission from the judge before recording.
The judge then ordered the journalist to stay in the dock for the day and hear all the proceedings of the court since he wanted to record the proceedings.
Reacting to this mild drama after proceedings, the counsel to the aggrieved traders, Gbolahan Quadri, noted that the dismissal of their application based on an unexplained and previously unmentioned defect disregards the fundamental principles of justice and casts doubts on the integrity and fairness of the judicial process.
He implored the press to shed light on the events that transpired during the Mile 12 case and urged the relevant authorities to investigate the matter.
The respondents in the suit include Ikosi/Isheri Local Council Development Area, Dr Chris Onyekachi, Total Value Integrated Services Limited, and Lagos State Ministry of Physical Planning and Urban Development.
The application was initiated by the Incorporated Trustees of Orirere Community Leaders and Traders Association, Precious Ojo, Alhaji Akinwale Jimoh, and Babatunde Adetula.
Dr Chris Onyekachi and his company Total Value Integrated Services Limited have several matters relating to the demolition of markets in Lagos. A recent such is the ongoing case of demolition of the white sand market in Oyingbo before Justice Idowu Akinkunmi.