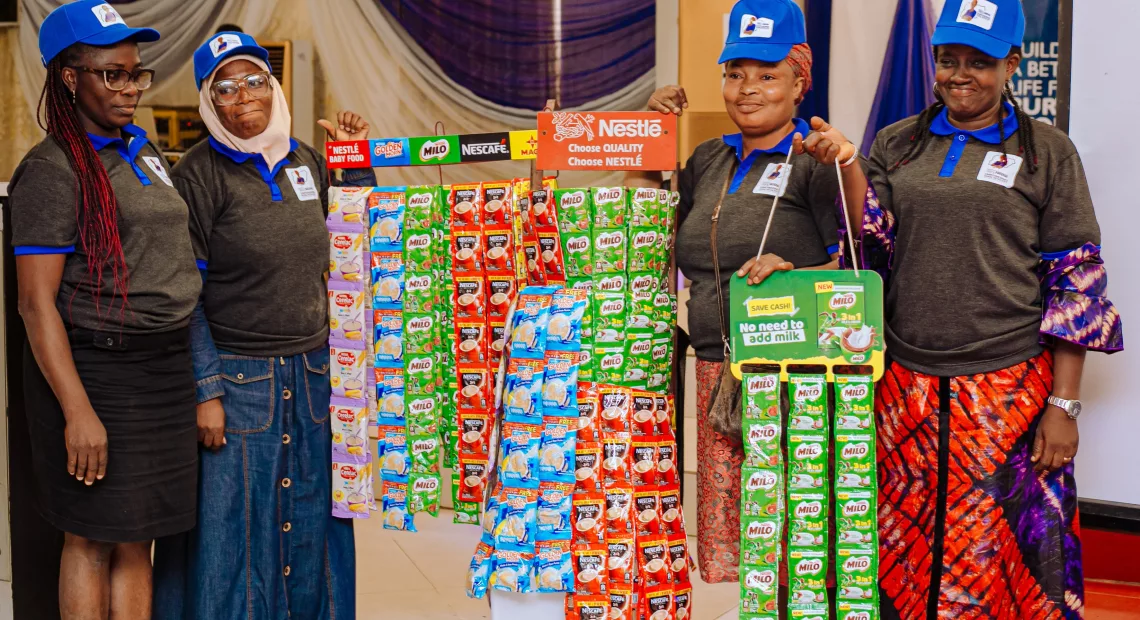 Financial Security: Nestlé Empowers More Nigerian Women
Thirty-two women from Ikorodu have joined the 250 beneficiaries of Nestlé Nigeria's Empowering Rural Women in Nigeria Project through which Nestlé is helping rural women in Nigeria build financial security to improve their standard of living.
This is achieved through training, mentorship, and grants in form of Nestlé products. Beneficiaries of the program are female retailers in Nestlé Nigeria's value chain.
Nestlé Empowering Rural Women in Nigeria aims to help beneficiaries scale up their businesses and sustain the new level of up to three times the size of their existing businesses. Each beneficiary receives grants valued at 300% of their monthly sales in form of Nestlé products, business training and a 3-month mentorship program. Each beneficiary is linked to a mentor for one-on-one coaching over the three months, to ensure their success.
At the induction of the thirty-two new beneficiaries in Ikorodu recently, Nestlé Nigeria's Commercial Manager, Mr. Khaled Ramadan said, "We are pleased with the success of the 250 beneficiaries of Nestlé Empowering Rural Women in Nigeria and are delighted by the opportunity to include 32 more today. With this addition, 282 women across five geopolitical zones of Nigeria now have a unique opportunity to scale up their businesses by 300%. We are confident that the new beneficiaries will also transform their businesses, making the best use of the
support Nestlé is providing through training, mentorship and grants in form of Nestlé products."
Mr. Phranklin Audu, Head, Partnerships & Training at FDConsults, implementation partner of Nestlé Empowering Rural Women in Nigeria Project said, "As an NGO focused on empowering people to improve their livelihoods, we are thrilled by the impact of this project on rural communities. Over 80% of the beneficiaries have seen their incomes grow and can support their families better.
One of them is Blessing Abayi, a single mother from Bauchi. Blessing used to struggle with paying her children's school fees, but after three months in the program, she told us that for the first time, she paid the fees in full and on time, thanks to her growing business. We are inspired by her story and others like it."
FDConsults is an NGO with a record of equipping businesspeople in rural areas with the information and skills they need to increase their household income and improve their standards of living.
The inclusion in Nestlé Empowering Rural Women in Nigeria was well received by the beneficiaries in Ikorodu. One of them, Mrs. Olubunmi Adeoye, expressed her gratitude to Nestlé for the opportunity to be part of the project. "I am so happy that Nestlé chose me to benefit from this program. It is a wonderful opportunity," she said. Another beneficiary, Mrs. Bukola Ajala, praised Nestlé for the empowerment and the free goods they provided, saying, "I have not seen any empowerment like this before. I know I am going to the next level."
Nestlé Empowering Rural Women in Nigeria Project began in August 2021, with 50 female retailers from the suburbs of Abuja. The program has expanded to include more women from the South-East, North-East, South-South, and South- West, including Lagos. Over 80% of beneficiaries have reported an increase of 100% to 200% in their business growth within three months of joining the program.
The best performing beneficiary, Mrs. Oghenetega Delight Jombo, of Jombo Stores, Port Harcourt, reached a business growth of 675% within 6 months of joining the program, and has sustained a monthly turnover of over N547,623.67 since.
Nestlé's Corporate Communications and Public Affairs Manager, Victoria Uwadoka, reiterates the company's commitment to building thriving communities by improving household incomes. Nestlé Empowering Rural Women in Nigeria Project is one of the ways through which Nestlé Nigeria is Creating Shared Value along her value chain.