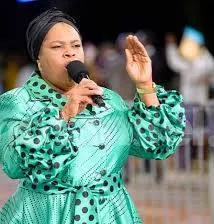 Evelyn Joshua Transforms Kenya's Narrative: A Beacon of Hope and Change
A renewed sense of hope and a deeper appreciation for the essence of humanity is taking root in Kenya, thanks to the remarkable efforts of Pastor Evelyn Joshua and her mission to transform the nation's narrative. Kenya, known for its democratic values and economic prowess, is witnessing a paradigm shift, where a commitment to uplifting the underprivileged is gaining momentum.
Despite Kenya's significant progress in human development, a critical gap exists in the intersection of religion, particularly Christianity, and its responsibility towards the marginalized and underprivileged. The plight of these individuals has often been overlooked, leaving many in dire need.
But change is on the horizon. The cloud of indifference is dissipating, revealing a newfound dedication to addressing the suffering of the less fortunate. At the forefront of this transformation is Pastor Evelyn Joshua, along with the Synagogue Church Of All Nations (SCOAN) and EmmanuelTV partners, who are bringing the teachings of Jesus Christ to life in Kenya and reshaping the nation's social fabric.
Three pivotal events have emerged as beacons of hope and transformation in Kenya:
The 2023 Kenya Crusade: A spiritual awakening like no other. This event, led by Pastor Evelyn Joshua, offered a unique approach to healing and deliverance, reigniting the flame of Christianity in Kenya. Kasarani stadium bore witness to the remarkable manifestations of the Holy Spirit, as thousands experienced healing and deliverance. The memory of this crusade will forever linger in the hearts of the over 50,000 attendees.
Revolutionary Tree Planting: A significant step towards environmental sustainability. Pastor Evelyn Joshua and her team, joined by government officials, embarked on a tree planting initiative in Uhuru Park.
The goal is to combat desert encroachment and environmental challenges that were gradually plaguing the nation. Evelyn Joshua herself took the lead, planting the first tree and contributing $25,000 to support the cause.
Also, a Charity Program in Piliwa Village was carried out in the heart of Massai country, Pastor Evelyn Joshua and her team set out on a mission to uplift the neglected residents of Piliwa village, Kajiado County. These inhabitants, often described as the "wretched of the earth," have endured dire living conditions, with no access to basic necessities such as water, healthcare, education, and shelter. Their plight had been exacerbated by a harsh environment and the loss of livestock due to drought. The arrival of Pastor Evelyn Joshua was nothing short of miraculous, as her team arrived with a truck loaded with food, household items, and clean water. The village erupted in jubilation, celebrating a gesture of compassion they had never experienced before.
Elsie Matilong, the village administrator, expressed her gratitude, saying, "We have never seen this kind of donations to a neglected people in Kenya before, more so by a foreigner. This is unprecedented, and you can see how joyful the people are, as if God Himself has descended from heaven to bless them."
Naomi Parinkoi, the Chief Public Officer for Social Services, shared her sentiments, "We are exceedingly glad with these generous gifts for these downtrodden, neglected, suffering people. It's beyond our imaginations. God bless Mama Evelyn Joshua and SCOAN for this great heart for the poor."
Moreover, Mrs. Edna Lenku, the first lady of the County, expressed profound appreciation to Evelyn Joshua, SCOAN, and EmmanuelTV for their invaluable contributions to the extreme rural areas, despite the challenges posed by the rugged roads. "Only God can reward you for these great gifts to these people. We are very grateful. May God continue to bless you and SCOAN," she said.
Pastor Evelyn Joshua's mission in Kenya goes beyond religious events and charity. It's about redefining Christianity, promoting the joy of humanity, and embracing the beauty of creation. Her work and commitment have left an indelible mark on Kenya, inspiring hope, and setting a new standard for compassion and humanitarianism.