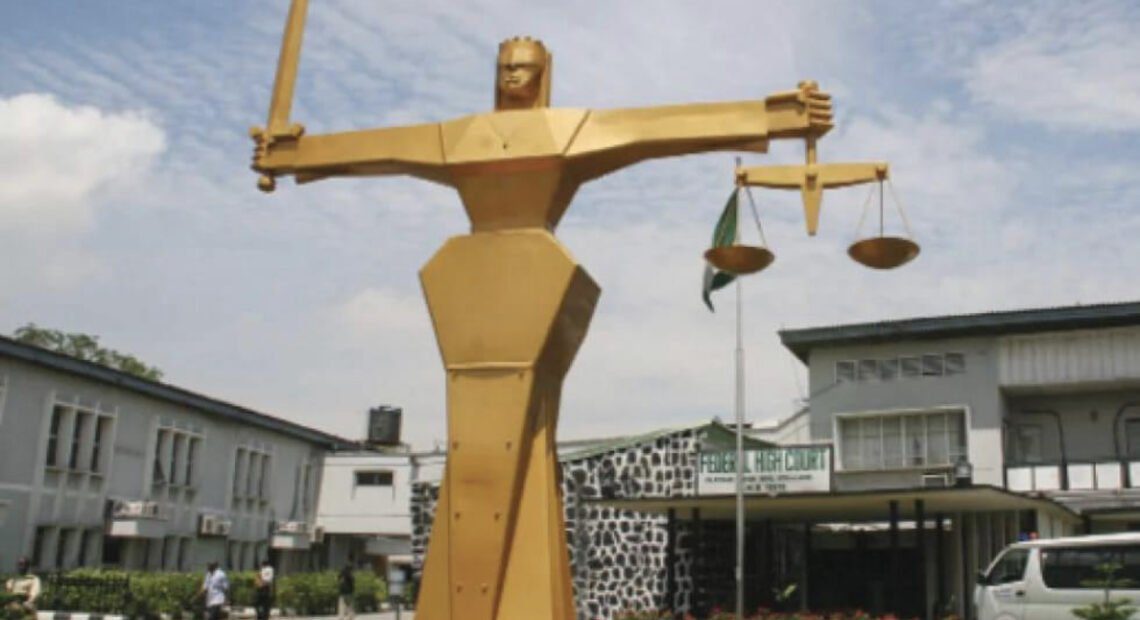 Whitney Adeniran: How My Daughter Died During Inter-House Sport -Father
Justice Oyindamola Ogala of a Lagos High Court sitting in Ikeja was on Thursday told how a 12 years old student of Chrisland High School Opebi, Adeniran Whitney died on February 9, 2023 at Agege stadium during the School Inter-house sport.
The deceased father, Mr. Adeyemi Michael Adeniran narrated before the court that his daughter, Whitney is not sickly but the autopsy result and his suspicion was that she might have died of electrocution.
While being led-in examination in chief by the Director of Public Prosecution ( DPP), Dr. Babajide Martins , Mr. Adeniran told court that his wife called him from office to come to Agege, the hospital she (Whitney) was taken to after the incident  at Agege stadium.
He gave evidence in an ongoing trial of the staffs of the school: Ademoye Adewale, Kuku Fatai, Belinda Amao, and Nwatu Victoria who were slammed two counts charge by the state government .
The state had  arraigned them on offence bordering on allleged involuntary manslaughter, reckless and negligent manner that endangered her life.
Their offences contravened the provision of Sections 224 and 251 of the Criminal Laws of Lagos State, 2015.
They all pleaded not guilty to all the counts charge.
The father of the deceased  narrated:, "On the day of incident, February 9, my daughter left home in her usual way to school. It was the day for their inter-house sport at Agege Stadium. She left home very health, nothing was wrong with her.
"I have arrived my office, in the afternoon, the mother (my wife, Blessing Adeniran) called me that she was told at the stadium that Whitney slumped and she has been rushed to the hospital. She said she was at the stadium, she was informed after she has been taken to the hospital.
She said she was told by the principal that Whitney was already coming up before she was taken to the hospital . After about 10 minutes she called, that I should come to Agege Central Hospital.
" So immediately, I dropped everything I was doing , proceeded to Agege. It took me about 45 minutes to locate the place because I could not found the place on Google map. Eventually when I arrived, I saw my wife by the road side, waved at me to stop . I got out of the car, I told my personal assistant ( P.A) to leave the car on so as to quickly pick her up.
He continue that his wife told him to go inside and pray for his daughter may be she will wake up. "I got inside, I saw her lifeless body on a table in a small room. In my mind, I thought she was given injection, may be she was sleeping. In that room, I saw some teachers, so I went close to my daughter, I raised her up to my body, shouted tapped her to wake up. I prayed and nothing happened. I shouted, I tapped her severally, nothing happened.
" I asked for the doctor of the facility, I knelt down before the woman (Doctor) to do whatever she can do to wake my daughter up. She responded that there is nothing she can do, that she was brought in dead. I stood up and went back to the room she was laid down , the nurse was still standing close to her. I asked the nurse what happened to her?
"The school nurse said she  slumped. She said she was already dilated, she was not breathing anymore. She said that,  she already die at the stadium before she was brought to the hospital. But she cannot pronounce her death, because she is not a medical doctor. So I said you only brought her to be pronounce her dead. She said yes. After that, the doctor in charge of the clinic came to me and said they need to wrap her up so that microbe will not enter her body and begin to swell up.
"The doctor said she needed some money, so I gave her #8,000.00. She later came back and said she needed more money, I gave her #7000 at that point, I called some of my friend that leave close to that Agege Central Hospital.. They all arrived in a short time, they asked if I have reported the case to the police officially. So, they left for police station. As soon as they left to police station, the doctor at the hospital came to me and said she would like to see me in private.
"The doctor told me that she will advice me not to waste time in burying my daughter, she really persuaded me. She said I should make sure I burry her on time and not put her in morgue and not to say I want to conduct examination. At that point, I nearly agreed at a point, I don't even know of any morgue.
" Prior to the day of the incident, we played together, she never complained, I remember when I came from Abuja, I even gave her soft drink. The following day, there was no complain of ill health. So I started telling myself why should I burry my daughter in a hurry without knowing what happen to her. She said the money and the pain I will go through in the process of autopsy. I told her what other pain is worst to a death of a child and how much money will I spend to bring her back alive. I said I must get a closure of what happened."
The father of the deceased further told the court that, it was at that point he called his friend at Lagos State University Teaching Hospital ( LASUTH). " That night, we took her body to LASUTH around 7pm. The second day we got back to LASUTH, I met the pathologist, he adviced that if we want to do autopsy, that we should write petition and coroner paper. So I left to Panti and I asked my lawyer to write the petition to Assistant Commissioner of Police (ACP) which de did."
He also told the court that he persuaded his wife to sleep since she has not been sleeping since incident happened. "As she was about to sleep, she hard noise from Whitney phone. She doesn't know the password but her sister, Amaka knows the password. So she open the phone and on her school snap chat group called 'Lagos House Wives."
He told the court that some of the student sent messages there,  that they know the school will not tell the parent the truth. He said one of the student wrote, "We are there and we saw what happened, she was electrocuted. Another one said, she saw Whitney on the iron rail close to the cotton candy machine that she wanted to buy.The wire of cotton candy busted and Whitney was shocked like mad, she fell on the ground, started foaming in her mouth and one stupid man came and started putting water on her."
He continued that, at that time I put my mind on her black lips and black tongue that he saw when he got to the clinic they took her to.
The prosecution therefore tendered the print out of the snap chat.
He further told the court how the school management came for  condolence visit and told the family not to go on social media.
He was however cross examined by the defendant counsel, Mrs Bimpe Ajegbomogun and Chief Richard Ahonarougho (SAN) the first and second defendants respectively.
The witness said his daughter was never a sickler. He said the day they called him from school that she was not feeling well, he took his daughter to their family hospital.
" We used Inland hospital at Ogudu. We are able to see doctor and he prescribed some medication which I bought for her and she used as prescribed. My daughter complained of anxiety and Dr .Taye examined her, she said nothing was wrong with her that she only needed rest.
"My wife's and I judiciously administered the drugs which was prescribed by the doctor and collected at the hospital pharmacy."
He further told court that the cause of her death might have been heart attack but he did not believe because the autopsy result says otherwise and his  suspicion was that it might have been an electrocution.
"This is because I have seen people electrocuted before." He said
said he would be surprised that at the time  Whitney fell, the cotton candy machine was no powered and that the he would also be surprised that  Whitney had fallen five to six metres away from where the machine was placed.
Under cross-examination by the second defence counsel, Mr  Richard Ahonaruogho (SAN), the witness said he did not know the second defendant prior to the incident and that the only contact with him was when he was put among delegations that the management and staff of school came to pay him condolence visit.
He told the court that he signed a permission letter for her to participate in the  inter-house sport.
Whitney's father said he did not know that both parents needed  to give consent for their wards to participate  inter-house sport.