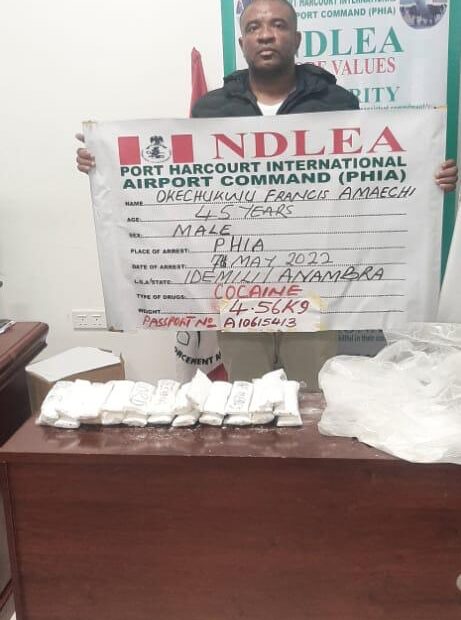 Busted! NDLEA Apprehends 'Fake Wife' With Cocaine Hidden In Private Part
The National Drug Law Enforcement Agency (N DLEA) arrested a man, Mr. Ilonzeh Kingsley Onyebuchi, and a woman claiming to be his wife, Mrs. Ilonzeh Roseline Nonyelum, at the Lagos airport purportedly going for medical treatment in India, with 184 wraps of cocaine in injected by the man , weighing 3.322 kilograms with 100 grams of the drug also concealed in the wife's private part.
The couple's consistent names on their travel documents raised suspicion, leading to a body scan that confirmed their drug ingestion. They were subsequently placed under excretion observation at the agency's facility.
A statement issued by the agency's Director of Media and Advocacy, Mr. Femi Babafemi, stated that the 'fake couple' were intercepted at the Screening Point 1, Terminal 1 of the international wing of the Lagos airport on Tuesday, August 1, when they were about boarding an Ethiopian airline flight to India. 
The statement also stated that their travel documents show consistency in their names and depict them as a couple, the development which compelled an NDLEA officer to subject them to body scan. "The scan confirmed they both ingested drugs as a result of which they were later placed on excretion observation at the Agency's facility.
While their travel documents identify the man as Ilonzeh Kingsley Onyebuchi and the lady to be Ilonzeh Roseline Nonyelum, preliminary investigation revealed that the intending passengers were not a couple but obtained the travel documents in the same surname to beat security checks at the airport. The lady later gave her real name as Ngogbike Nkechi.
"During her interview, she confessed that she was recruited in her church in Aba, Abia state where she lives," parts of the statement read. 
The suspect, Ilonzeh Roseline Nonyelum (a.k.a. Ngogbike Nkechi) according to the statement, further told the agency's operatives that she is a divorcee, and that Kingsley with whom she was travelling is not her husband but connected only for the purpose of the illicit drug business trip.
She revealed that her arranged husband, Kingsley brought the pellets of cocaine to her in her room to ingest in the hotel where they were both lodged in separate rooms the previous day Monday, July 31. 
"After their arrest, a thorough search conducted on her led to the discovery of a big size wrap of cocaine that weighed 100 grams she inserted into her private part. She confessed that she was promised Five Thousand Dollars ($5,000) upon successful delivery of the drug in India."
"In his own statement, Kingsley who was into clothing business in Onitsha, Anambra state, claimed he was promised Two Thousand Dollars ($2,000) after a successful delivery of the drug in India. A further search of the Agency's crime data base revealed that Kingsley also obtained his travel documents with fake identity for the trip. 
"Indeed, it was established that he was arrested by NDLEA operatives at the Nnamdi Azikiwe International Airport Abuja on March 19, 2022 for ingesting 100 wraps of cocaine weighing 2.243kgs upon his arrival from Addis Ababa, Ethiopia on board an Ethiopian airline flight. His travel documents then contained his real name: Uwaezuoke Ikenna Christian.
"After his arrest at the Abuja airport on March 19, 2022 along with another suspect, Iro Elvis Uche who also ingested 65 wraps of cocaine with a gross weight of 1.376 kilograms, Uwaezuoke was subsequently arraigned before Justice Zainab Abubakar of the Federal High Court Abuja with charge number: FHC/ABJ/CR/438/2022. He was eventually granted bail by the court pending the conclusion of his trial. He is still on the court bail when he was arrested at the Lagos airport for a similar offence on Tuesday 1st August.
"While Ilonzeh Kingsley Onyebuchi (aka Uwaezuoke Ikenna Christian) excreted a total of 82 wraps of cocaine with a gross weight of 1.822 kilograms in five excretions, Ilonzeh Roseline Nonyelum (aka Ngogbike Nkechi) ingested 101 wraps in four excretions with a bid size wrap of the substance recovered from her private part, all weighing 1.50kgs.
Also, the statement also stated that the NDLEA operatives of the Directorate of Operations and General Investigation (DOGI) attached to courier companies in Lagos have intercepted various quantities of Dextromethorphan mixed with heroin; Methamphetamine; Dimethyl Sulfone and Cannabis concealed in different objects going to Europe.
The statement further stated that while 272 grams of dextromethorphan mixed with heroin going to Greece were recovered from white neck beads; 665 grams of cannabis being shipped to Hong Kong were hidden in bars of Dudu Osun black bathing soap; with 261 grams of Dimethyl Sulfone going to New Zealand hidden in reels of weaving threads and 1.5kgs of Methamphetamine also going to New Zealand neatly packed in an MP3 player after all the parts were removed and the substance stuffed as replacement.
Mr. Babafemi further stated that a woman and four men: Ladi Peter, 47; Umar Salisu, 38; Ahmed Naheeb, 36; Ibrahim Umar, 42, and Musa Suleman, 43, were arrested in Kano state,  connection with the seizure of 977.7 kilograms of cannabis sativa from them by NDLEA operatives along Zaria-Kano road, Kwanar Dangora on Friday 4th August and Monday, July 31. 
He also stated that 2,445 kilograms of cannabis sativa were recovered from the warehouse of a fleeing suspect, Usman Nar at Madinatu area of Jere LGA, Borno state on Saturday, August 5, with no fewer than 57,450 pills of tramadol, rohypnol and exol-5 as well as 4,082 bottles of codeine-based syrup were recovered from a suspect, Joseph Usman in a commercial bus coming from Onitsha, Anambra state to Abuja along Abaji-Abuja highway on Friday 4th August.
Reacting to the seizures and arrests of the past week, Chairman/Chief Executive Officer of NDLEA, Brig. Gen. Mohamed Buba Marwa (Retd) commended the officers and men of MMIA, Kano, FCT and Borno Commands of the Agency as well as those of DOGI for their diligence, vigilance and professionalism in the discharge of their responsibilities. He charged them and their compatriots across the country not to rest on their oars.