Bayelsa Wins Nestlé MILO Basketball Championship 2023 Again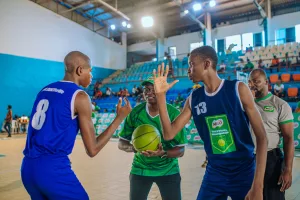 For the 10th time in the last 10 editions, St. Jude's Girls Secondary School, Amarata, Yenagoa, Bayelsa State has qualified for the finals of the MILO Secondary Schools Basketball Championship now in its 23rd edition. The school has dominated the Championship since 2010, emerging as winners seven times in the last eight years.
At the Atlantic Conference in Asaba recently, where St. Jude's Girls defeated Dom- Domingos College Warri, Delta State by 14 points to 12 points to secure their place in the finals, Coach Tony Nelson let us into the secret of his school's success! According to Coach Nelson, the secret is continuous improvement.
"We have been working so hard back in Bayelsa to build this team for the last two years. Although we won the conference, we believe there are a lot of things we need to put together to get to the national standard. That is what we will do when we go back home", he said.
The Bayelsa born coach said further, "We are defending champions, and most of these players are just coming up, so we really thank God that we could get to this level. We are going to Lagos, a place we always go to every year, where we have been named champions seven-times. The team will go back home to Bayelsa to correct our mistakes during the Atlantic Conference to enable us triumph again at the national finals in Lagos."
Coach Nelson has worked with three different teams over the last thirteen years. They are, St. Jude's Girls Secondary School, Belary Schools and Bishop Dimieari Grammar School all in Bayelsa State. During this time, he also trained over 100,000 basketballers for competitions and camps, working for the Bayelsa State Sports
Council. He believes that praying to God and hard work are the two most important factors to success.
The young, vibrant and energetic coach says "What really drives me to do what I do is that I enjoy working with children and teaching. I enjoy making impact on young people. I like seeing young people become something. I go to schools to get these children, bring them to the sports complex and begin to teach them. The drive in it is to see them succeed, to see them become champions and to see them become leaders."
In the boys' category of the Atlantic Conference, Urhobo Model College, Effurun, Delta State triumphed over the boys from Bishop Dimieari Grammar School, Ovom, Bayelsa State by 28 points to 24 points.
Both St. Jude's Girls Secondary School, Amarata, Yenagoa, Bayelsa State and Urhobo Model College, Effurun, Delta State will represent the Atlantic Conference at the national finals of the 23rd MILO Basketball Championship in Lagos in July.
Other teams who will be in Lagos for the national finals are winners from the Savannah Conference which held in Kano from the 3rd to the 10th of May and the Central Conference held at the MKO Abiola Stadium in Abuja from the 12th to 19th of May and Western Conference in Ibadan from May 30th to June 6th, 2023.
Category Manager for Beverages, Nestlé Nigeria, Mr. Olutayo Olatunji, reiterated Nestle's commitment to developing talents, promoting healthier lifestyles, and instilling values for success in life through sports. "MILO, firmly believes that through participation in sports, children learn enduring values to help them achieve success in life," he said.
"We are therefore, pleased to have this opportunity to provide a platform where young talents find expression through MILO Secondary School Basketball Championship. On the field of play, the teams depend on the discipline, perseverance, courage, self-belief, and respect that they imbibe during practice and through their interactions with each other. These life skills are not only for basketball; they equip the players to navigate their careers and to be productive in society. This is grit, learned from sports but useful in every area of life."
Nestlé Nigeria's MILO Secondary School Basketball Championship has been promoting the value of grit for over 23 years, helping schoolchildren learn essential life skills such as resilience, persistence, stamina, cooperation, and self-belief. These values enable them to overcome challenges and achieve their goals in life.
Nestlé continues to lead grassroot sports development in Nigeria through its MILO Basketball Championship, contributing to the development of the Nigerian national teams, and notable clubs across the world today.
States who competed in the Atlantic Conference of the MILO Basketball Championship at the Indoor Sports Hall of the Stephen Keshi Stadium Asaba, from the 20th to 27th of May, 2023 are Bayelsa, Imo, Enugu and host Delta. Others are Ebonyi, Rivers, Cross River, Akwa-Ibom and Abia.
The MILO Basketball Championship has grown tremendously from about 500 schools at its commencement in 1999. It now reaches over 150,000 individual players from over 10,000 schools across Nigeria every year.