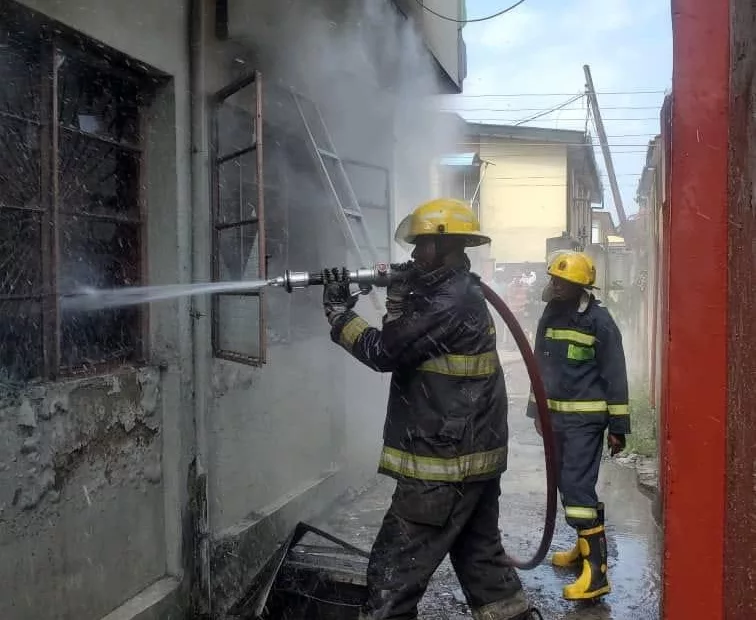 LASEMA Rescues Seven Motherless Children From Devastating House Fire In Lagos
The Lagos State Emergency Management Agency (LASEMA) has reported a successful rescue operation in which seven orphaned children were saved from a house fire on Sunday, July 16, 2023.
Upon receiving a distress call at 14:43 through their toll-free emergency number, 112, the LASEMA Response Unit swiftly initiated the rescue mission. All seven male children, aged between one and seven years old, were safely evacuated from the single-story building, which served as an orphanage and motherless babies' home.
According to Nosa Okunbor, Head of the Public Affairs Unit at LASEMA, the fire originated from an air conditioning unit due to a power surge. The rapid spread of the fire was contained by the LASEMA team, ensuring the safety of the children.
Dr. Olufemi Damilola Oke-Osanyintolu, the Permanent Secretary of LASEMA, stated that the children were relocated to a nearby compound for their well-being. The management team of the home expressed plans to temporarily relocate the children to the residence of the home's owner to ensure their continued welfare.
The fire, which initially reached the storage room of the home, has been extinguished, and the first floor of the building was salvaged. The rest of the ground floor was also saved from the fire. Post-disaster assessment confirmed that there were no injuries or casualties.
The children were formally handed over to Mr. Balogun and Mrs. Rasheedat Sadik from the Child Protection Unit of the Lagos State Ministry of Youth and Social Development. They, in turn, officially transferred custody of the seven children to the Red Cross.
The Office of the Permanent Secretary of LASEMA expressed satisfaction with the successful conclusion of the operation within a record time frame, emphasizing that no injuries or casualties were recorded in this near-fatal incident.