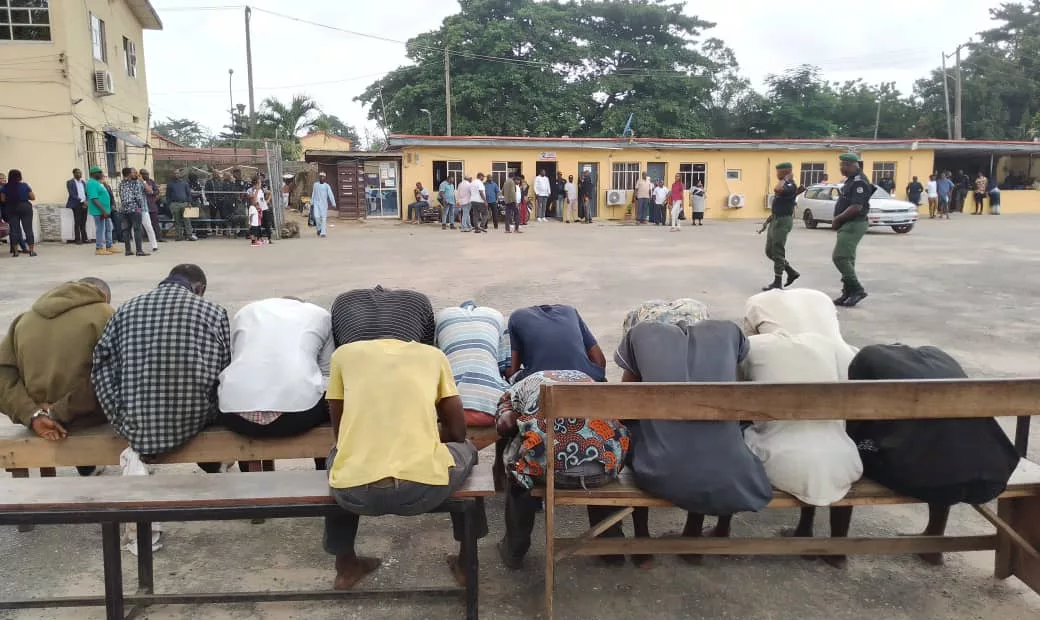 An elderly man identified as Emmanuel Nwagu, who falsely claimed to be a Commissioner of Police, has been apprehended at the Lagos State Command.
The suspect who was dressed in a Commissioner of Police uniform was said to also possessed an identity card when he appeared at the command, purportedly to secure the release of a detained suspect.
Nwagu was paraded among other suspects on Monday by the command Police Public Relation Officer (PPRO) SP Benjamin Hundeyin who stated that the incident  occurred on September 2,  at about 4: 40pm when the suspect visited the police premises and introduced himself as a Commissioner of Police.
The Police image maker noted that immediately the suspect introduced himself as a Commissioner of Police, the officers at the command fully regarded him as such, but upon questioning he was discovered to be an impersonator.
"He was immediately arrested and a search was conducted at his abode and a Deputy Commissioner of Police warrant card, an Assistant Commissioner of Police warrant card, Kenwood walkie-talkie, police camouflage singlet and face cap were recovered.
"Investigation has been revealed that he had been doing it for long and only God's know how many people he has duped with such fake identity, we are happy that he has been arrested . He would be arraign in court soon, he said"
Hundeyin further stated that the command have arrested twelve suspects including the man who claimed to be Commissioner of Police.
"We have cases of impersonation, defilement, robbery and drug dealing . We also recovered arrays of guns."
Meanwhile, one Ibrahim Bello was also arrested for being parading himself as a lawyer at the Epe High / Magistrate Court for several years.
The fake Lawyer was arrested after receiving a complaint from the Nigeria Bar Association, Epe Branch against the suspect.
The police spokesperson said detectives from the command arrested the suspect who was fully dressed as a lawyer in court.
He was brought in for questioning where he was discovered to be an impersonator. Recovered from the suspect include law books, gown and some other things, he was also going to  court to represent innocent people who don't know him.
"The fake Lawyer was arrested in court in robe, presenting him to be lawyer in the community before he was eventually arrested."
While speaking  with the journalists, the fake Commissioner of Police and the lawyer explained what led them to their actions.
Nwagu said it is true that he is not a policeman. "the commissioner of police Identity card was giving to him by the operatives of the Rapid Response Squad who came to guard the hotel where he is working.
"I was the only one the ID card was given to,  the RRS operatives gave it to me so that whenever police wanted to harass me I should show it to them, the police shirt was also given to me to wear.
"I was also given a police cap to protect myself from harassment. The walkie-talkie belongs to the Church where I work now, it's not mine. I paid the RRS Policeman to produce it for me, everything was given to me last year.
"I have not used the CP identity card before anywhere else, except when the vehicle inspection officer impounded my car. Then I told them I was a retired CP, yet I was taken to their office and my vehicle was booked."
He added that, when he got to the VIO office they told him they didn't see him as an officer. But he was later released to go after paying his fine.
"On the fateful day I was arrested, I came to the command to secure the release of someone that was arrested, that was how I was nabbed for impersonating the commissioner of police, I regretted my actions."
Meanwhile, Bello the fake lawyer said he was given a job by a tenant against is landlord  and he went to court to file a suit against the landlord on behalf of the tenant, when a lawyer approached him in the court.
"I was surprised when the lawyer came to me and said you! You are not a lawyer stand up, asking me if am a lawyer? And I told him I am not a lawyer but an estate agent that I don't appear in court.
"I always go about with my robe in case a lawyer don't have attire to appear in court, that was why I always go about with it.  a lawyer who don't have it can come to me and used it. That is why I am always with it. On the fateful day I was arrested I went to court to check a lawyer.
"All the law books found with me, it was because I love reading books that was why I bought them. I read the law books because of the nature of the job I do. I regret my action."
The Police Spokesperson, however said the two suspects would be charged to court.